---
Casa Mira Towers(Studio Unit) Salvador, Labangon, Cebu City
Ad Type: For Sale | Location: Cebu City
| Views: | Comments: | 09 September 2018
Description
WHY RENT IF YOU CAN OWN?
Studio Unit Condo for SALE
Labangon, Cebu City
As low as 9,798/month(EQUITY)
UNIT DETAILS
Floor Area: 20 sq.m
1 CR
Dining Area
Living Area
Kitchen
Convertible to 1-Bedroom
PAYMENT SCHEME
Total Selling Price : Php2,077,125
Transfer Charges : Php117,573
Reservation Fee : Php 15,000.00
Equity10% of the TSP payable up to 12-months
:As low as 9,798/month(w/out transfer charges)
:As low as Php24,877/month(w/ transfer & registration charges)
Loanable Balance : 90% of the TSP thru bank
Php1,763,596 loanable amount
bank approx amortization
5 years for 32,479/month
10 years for 17,855/month
15 years for 13,045/month
20 years for 10,687/month
CASA MIRA CONDOMINIUM
Location: Labangon, Cebu City
Status: For Construction
Deliverable: Finished Unit
Type: Residential
Model: Studio Unit
AMENITIES AND FACILITIES
Residential Tower Features Tower 1 (2nd–16th Floor)
Tower 2 (2nd–18th Floor)
Power back-up in common lobbies and corridors 1.5-meter wide corridors.
Materials Recovery system
24 – hour security system
Roof Deck
Amenities Provision for Gym and Lounge
A retail area covering about 2,000 sq. m. will be located on the ground floor to cater, in part, the needs of the residents.
UNIT FEATURES
Tiled toilet and bath with shower, faucet, lavatory, toilet bowl and mechanical exhaust.
Kitchen counter-top and built-in lower cabinets with provision for exhaust system.
Provisions for cable TV, telephone/internet.
Power back-up in common lobbies and corridors
Individual utility meters.
Painted walls and ceilings.
Ceramic tiles for Living, Dining & Kitchen floors
Fire detection and suppression system.
Provision for window-type air conditioning system
Inclusive of grease trap Tower 1 and Tower 2 (Ground Floor)
COMMON FEATURES
Commercial Spaces Reception and Lobby per tower
Two (2) passenger elevators per tower
100% power back-up system for commercial areas
Administration and Security Office : 1.5 to 2.5-meter wide corridors Materials.
Recovery Facility Services of a Property Management
24-hour security system.

 
PLEASE CALL OR TEXT FOR COMPLETE DETAILS AND VIEWING 
ARACELI S. DANIOT 
( SUN) +639323749133 
(SMART)+639093086678 
(GLOBE)+639778047785 
(LANDLINE) 032-316-8620 
PRC REG. License #: 0025074 
M2M Realty & Brokerage 
email:daniot.araceli@yahoo.com
I OFFER ALL PROPERTIES HERE IN CEBU ( Just feel free to ask me if you want some properties (Condos , Houses & Lots) 
***BROWSE FOR MORE PROPERTIES BELOW*** 
PHOTOS 
(CEBU MORE PROPERTIES CONDOMINIUM HOUSE AND LOT) 
https://www.facebook.com/pg/CebuMoreProperties/photos/?tab=albums 
(MESSAGE YOUR INQUIRIES HERE) 
https://www.messenger.com/t/daniot.araceli
Pictures
---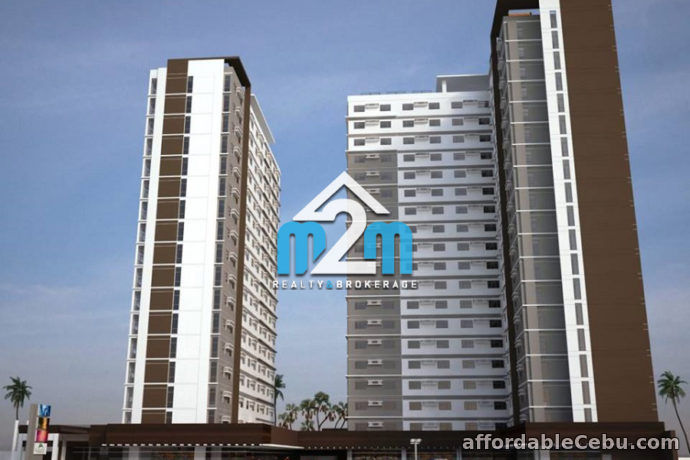 Share this Ad