---
ADXL345 3-Axis Digital Acceleration of Gravity Tilt Module AVR ARM MCU Arduino
Ad Type: For Sale | Location: Cebu City
| Views: | Comments: | 20 January 2014
ADXL345 3-Axis Digital Acceleration of Gravity Tilt Module AVR ARM MCU Arduino
Item Description:
1.  Adxl345 digital three-axis acceleration of gravity tilt module arduino code IIC / SPI.
2.  Name: the adxl345 module (three-axis acceleration of gravity).
3.  Chip used: the Adxl345.
4.  Power supply :3-5v.
5.  Method of communication: the IIC / SPI communication protocol.
6.  Measuring range: ± 2g ± 16g.
7.  Schematics, manuals and reference documentation of relevant data.
8.  51, the avr, the arduino microcontroller test code.
9.  3-axis, ± 2g / ± 4g / ± 8g / ± 16g.
Package Content:
1 x ADXL345 3-Axis Digital Acceleration of Gravity Tilt Module
Serious buyers only please.
Mode of payment is thru GCASH,Bpi,LBC or Paypal(+4.5%+15),Cash for meetups.Provincial buyers add LBC:175(Vis)/185(LuzMin) ::: JRS:99(Vis)/104(LuzMin)
Schedule for sending parcels is M-W-F.Payments should be received in the morning if you want your item to be shipped on that scheduled day.Otherwise, it would be on the next schedule date.Thanks!
goo.gl/VWNeyz >>> Complete ads list
Pictures
---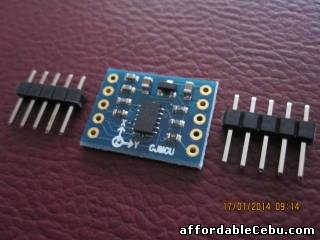 Share this Ad