---
Arduino I2C RTC DS1307 AT24C32 Real Time Clock Module For AVR ARM PIC SMD
Ad Type: For Sale | Location: Cebu City
| Views: | Comments: | 20 January 2014
Arduino I2C RTC DS1307 AT24C32 Real Time Clock Module For AVR ARM PIC SMD
Brand new and high quality.
This is the DS1307 Real Time Clock developed by one of our designer waiman.
The module comes fully assembled.
The DS1307 is accessed via the I2C protocol.
Two wire I2C interface.
Hour:Minutes : Seconds AM/PM.
Day Month, Date - Year.
DS1307 based RTC without LIR2032 battery
1Hz output pin.
56 Bytes of Non-volatile memory available to user.
Size:2.9cm x 2.6cm - 1.14inch x 1.02inch.
Package:
1 x DS1307 Time Clock Module (without battery)
Serious buyers only please.
Mode of payment is thru GCASH,Bpi,LBC or Paypal(+4.5%+15),Cash for meetups.Provincial buyers add LBC:175(Vis)/185(LuzMin) ::: JRS:99(Vis)/104(LuzMin)
Schedule for sending parcels is M-W-F.Payments should be received in the morning if you want your item to be shipped on that scheduled day.Otherwise, it would be on the next schedule date.Thanks!
goo.gl/VWNeyz >>> Complete ads list
Pictures
---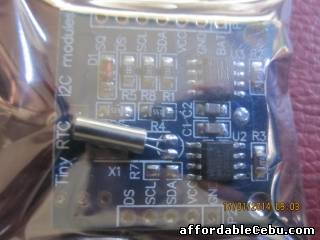 Share this Ad