---
FDA Approved: TAD 600mg with FREE Vitamin C (10 ampules)
Ad Type: For Sale | Location: Cebu City
| Views: | Comments: | 09 December 2018
Best seller: TAD 600mg with FREE Vitamin C (10 ampules)
Philippine FDA (Food and Drug Administration) Approved

HASSLE FREE - FREE SHIPPING NATIONWIDE
Also available Cash on Pick-up/Delivery via LBC Express.
Guaranteed you will receive your product in just 1-2days!

For orders and inquiry please contact us at:
0917-1506-142 (Globe/Viber)
FB: https://www.facebook.com/GlutaOPS/
Content and packaging:
10 Vials of L-Glutathione Reduced 600mg
10 Ampoules of Vitamin C 500mg
10 Ampoules of Sterile Water
Benefits of TAD Glutathione Whitening 10 Vials 600mg Each
Glutathione for Skin Whitening has Been Shown To Be Safe and Effective in Numerous Clinical Studies
One of the Best Selling and Most Recommended Glutathione Brands Used in Clinics Around the World
Each vial contains 1800mg of L-Glutathione per vial, highest quality pharmaceutical grade
Manufactured by Biomedica Foscama Group Italy
Philippine FDA (Food and Drug Administration) Approved
BENEFITS OF TAD GLUTATHIONE
1.) Makes your skin flawless.
2.) Improves pigmentation of the skin such as melisma, scars, improper chemical peel and post chicken pox.
3.) It helps the skin look smoother and achieve even color.
4.) It is an anti-oxidant and enhances liver function.
5.) It also helps prevent diseases of the eye such as disorder of eyeball tissues, cornea, cataract, and optic nerve.
Directions:
1 vial two times weekly by sub-lingual administration or as advised by your physician.
For maintenance use 1 vial every 10 to 15 days.
For IM or IV administration please consult your physician.
Maintenance Protocol Oral Glutathione:
Daily Oral administration of 600mg Glutathione with boosters
Indications:
As with all supplements pregnant and nursing mothers should consult their physician.
Glutathione has cellular protective properties that make it unsuitable for chemotherapy patients.
✈️WE SHIP NATIONWIDE for FREE thru LBC/ JRS
Pictures
---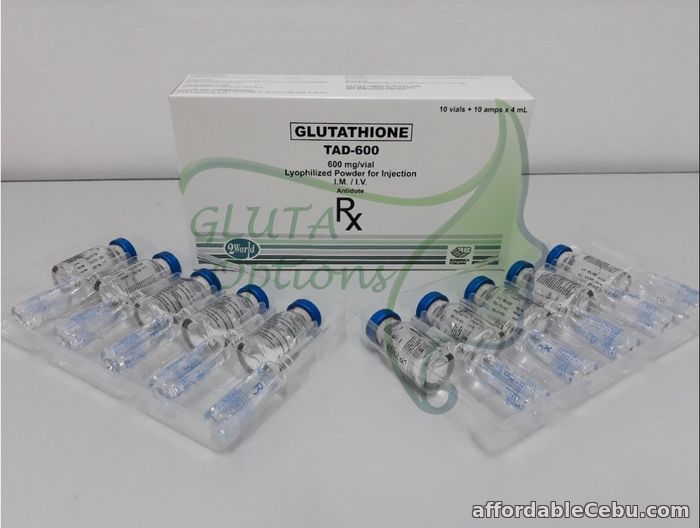 Share this Ad
Total comments: 2

Rona  

(10 December 2018 2:06 AM)

[Entry]