Here are two (2) samples of reaction paper of President Duterte SONA 2018: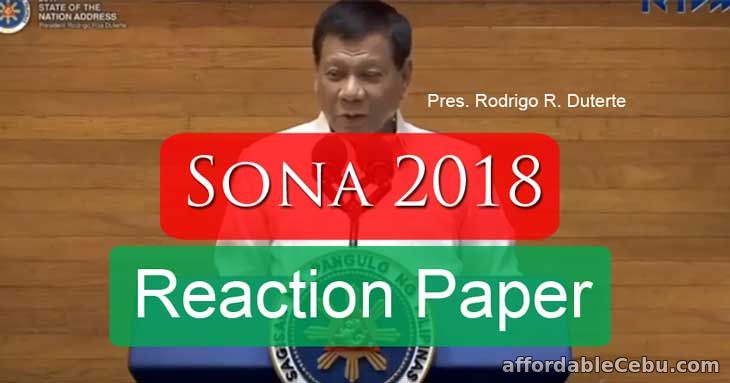 Sample 1: Duterte SONA 2018 Reaction Paper
Some of the elements of SONA 2018 was not expected as it should be. It was delayed by an hour. And the President's speech didn't present the previous year's achievements but focuses on the present and future plans. I'll tell you why the President focused on the present and future plans.
Time Started: Delayed
President Rodrigo Duterte was set to deliver on July 23, 2018 (Monday, 4pm) his third State of the Nation Address (SONA) at the Batasang Pambansa in Quezon City, Metro Manila, Philippines.
SONA 2018 was delayed by an hour due to the briefing of Duterte on who will be seated as the House Speaker beside him. The Congress decided to remove the current House Speaker Pantaleon Alvarez. And former President Gloria Macapagal Arroyo sworn in the Congress as House Speaker just few minutes before the start of SONA. That made the delay of the SONA which should start at 4pm but due to this incident it started at 5pm. A one hour delay.
President Duterte's Speech
SONA 2018 broke the tradition of highlighting the administration's previous year accomplishments. Duterte focused on desire for genuine and meaningful change for the people. He presented the administration's present activities and the future plans.
You can read the copy of
Duterte SONA 2018 Full Speech in Text
.
Duterte was so aggressive in his war on illegal drugs and corruption that he opened his speech like this,
"About two years ago,  I solemnly took my oath as a worker of the national gov't. I was inspired to institute real changes for the greater good of the Filipino people," said President Duterte
Duterte also said that,
"Let me begin by putting it bluntly. The war from illegal drugs is far from over and will not be sidelined, instead, it will be as relentless and chilling."
He attacked the human rights advocate like this,
"Your concern is human rights, mine is human lives. The lives of our youth are being wasted and families are destroyed, and all because of the chemicals called shabu, cocaine, cannabis, and heroine. Human rights to me means giving Filipinos, especially those at the society's fringes, a decent and dignified future through the social and physical infrastructures necessary to better their lives. The lives and freedoms and the hard-earned property of every Filipino whose condition we wish to improve shall be protected from criminals, terrorists, corrupt officials, and traffickers [of] contrabands."
He also attacked the corrupt government officials like this,
Time and again, I have stressed that corruption must stop. [applause] Corruption is like a leech that it bleeds the government of funds programmed for its infrastructure and other social development projects. It saps the morale or the morale of dedicated and honest government workers.

Corruption destroys those who succumb to its temptation and eventually it is the innocent who will suffer and bear its horrible consequences.

The love of money is corrosive. And sadly, the desire to make the easy kind by being imaginative and manipulative, corrupts absolutely. Stolen wealth does not make the thief respectable. Neither will the trappings of wealth mask [nor] cap the stink that thievery exudes. One day, justice will catch up with those who steal government funds. And when that day comes, it will be the public who will have its retribution.

One of the administration's initiatives to lessen or stop corruption is the passage of Ease of Doing Business Act. Duterte told the local government units to faithfully implement this law. He said,
Hinihingi ko ho 'yan sa lahat nasa gobyerno under my control and supervision. Huwag ho kayong magkamali.
Duterte also ask the support of his government officials. He value friendship in the public office but he said,
I have friends and political supporters whom I appointed to public office and then dismissed or caused to resign. I need not mention their names or recount the circumstances surrounding their removal or resignation. Media has more than amply reported that.

I value friendship, make no mistake about it. But it has its limits.

This is a lonely place I am hemmed in. Do not make it lonelier by forcing me to end our friendship because you gave me the reason to end it. It pains me to end – the loss of friendships. And that is why I appeal to you to help me in my cause so that our friendship will endure.
He supported the Bangsamoro Organic Law that he will signed it after 48-hour review.

Duterte also said budget for Mindanao is being increased. By the end of his term, he wants to see the fulfillment of his promise. On Bangsamoro Organic Law, he said: "Give me 48 hours to sign it and ratify the law."

The Mindanaoan president emphasized "War is not an option. We have been through the catastrophe in Marawi. We have seen the horror, devastation, human toll, displacement of both Christians and Muslims alike."

Duterte hailed the successful hosting of ASEAN anniversary and summit last November. "We will have stronger bonds with ASEAN friends."

On relationship with China, Duterte said it has led to an unprecedented level of cooperation between nations on the war against transitional crimes. "Our shared intelligence with China led to discovery of clandestine shabu laboratories."

The iron-fist president shared admiration to our Filipino migrant workers for their selflessness and courage in enduring hardships of living away. "You have contributed greatly to the Philippine economy." He also mentioned the fight against 'endo' which has resulted to regularization of more than 300,000 workers.

Talking about the third telco player, Duterte said the chosen entity must provide the best possible services at reasonable prices. He also wants to lower interconnection rates between industry players.

Duterte also promised to restore environmental integrity of Boracay. "It has sadly become a representation of government's negligence, including mine." He said that protection of the environment is a top priority. Duterte was emotional as he discussed open pit mining that he said "destroying my country."

Duterte applauded the Congress for the immediate passing of the Tax Reform for Acceleration and Inclusion or the TRAIN law. "I am committed to a comprehensive tax reform and I ask Congress to continue the job." On TRAIN impact, he said: "You have made funds available to build better roads, bridges and improved health and education."

Duterte also warned rice cartels to stop messing with the people.

The passage of the universal healthcare bill was also encouraged by Duterte.
 
On federalism, he said: "Strong political determination, not political ambition, is the guiding light. I have no illusions of occupying this office one day longer than what the Constitution under which I was elected permits." But he is confident the people will support effort to pass a new Constitution.
Reactions on President Duterte's Third SONA
Thousands of protesters and militant groups rallied near the Batasan to condemn rampant killings being linked to Duterte's war against illegal drugs; as well as the tax reform law, raising duties on fuel, cars, and sugar-sweetened drinks.
Analysts added that Dutertenomics performance after his two years in power is fair to poor citing the impact of the TRAIN law. 
The inflation rate (rate at which the general level of prices for goods and services is rising and, consequently, the purchasing power of currency is falling) also increased versus last year (4.9 vs. 3.2).
Some also reacted with the proposed federalism, that would decentralize the system of the government. Others said creation of new states or regional governments will just create another bureaucratic layer with the installation of state governors on top of provincial governors, municipal, and city mayors.
Meanwhile, the President was not able to sign the Bangsamoro Organic Law (BOL) in time for the SONA as it was not ratified before the adjournment of today's session of the House of Representatives.  
"We consider this as a temporary setback in the administration's goal of laying the foundation for a more genuine and lasting peace in Mindanao," the Office of the Presidential Spokesperson said in a statement.

On the other hand, latest Pulse Asia survey revealed that majority of Filipinos consider the war on the drugs as the Duterte administration's most important achievement. The report also include good feedback for the fight against crime, salary increase for police and soldiers, fight against graft and corruption and free tuition in public universities and colleges.

-- END --
---
Another reaction paper of Duterte's SONA:
Sample 2: A Reaction Paper to President Rodrigo Duterte's SONA
I will write a reaction paper because I think this is something that EVERY person, thus every Filipino citizen, should do every presidential speech — to watch, to reflect, and to react. I can/will argue that above all else (more than patriotism and compliance to laws), SELF-THINKING is what mainly defines a person's citizenship.
FIRSTLY, I find it amusing that the term "STATE of the NATION address" contains two words that find itself synonymous to the word country — nation-state.
What is a nation-state? Does the incoming administration describe us as a nation-state?
1. I am a believer that NATIONS are a modern phenomenon (i.e. 200-300 years ago), because a nation would only be a nation if it scopes CULTURAL HOMOGENEITY. I admire our president for being a very strong symbol of hope. You can't just ignore a 91% approval rating. And after all those media appearances, from sexist jokes and blatant curses and death squads and political ties up to this recent 1 hr 32 min speech, you can't ignore the fact that a lot remain loyal to his leadership no matter what blunders and consequences there may have been. That provision of hope is something… something that's good to an extent but hopefully restrained before it turns to full-fledged fanaticism. Nevertheless, I am serious that I think he can and he has good intentions in uniting the country — from the Marcos loyalists to the militant left to the southern Moros and the rich and the poor (but obviously except for some, as always).
2. For the STATE part, what really is a state? I can go with the traditional definition that a state is a polity where a body exercises authority over a distinctive territory. But what constitutes the state? Is it the market, the government, or civil society? I think that question still has a long way to go so I'll go with the much much historic definition that people establish a state by subjugating some of their liberties in exchange for PROTECTION AGAINST INTERNAL AND EXTERNAL THREATS. Now, does our president embody that? Internal: with the ever-reiterated war on drugs and criminality and extrajudicial killings and mistaken identities, do you really feel safe? And if you ever do feel safe, do you think it is the right way to peace and order? Is discipline through fear and not morality really the answer? External: There have always been hints, and I am getting even more doubtful that the country can realize genuine sovereignty over its territories. There may not be a war, yes, but there may be a huge change business imperialism-wise (hint: US vs China). And I do not prefer it.
So… do I give an approval? Nation-wise: I laud that he will most probably bring hope, unity, and a national identity to a lot of people. State-wise: I abhor the wrong means, exclusion of the lost and the sinned, and the brand of leadership that promotes individual machismo over equitable human rights. I am a person that gives more importance to humanitarian values more than pride, dignity, and achievement. So I probably will not.
But there's still a chance to change my mind (as if my opinion really matters…). I am actually in sync with many of the president's stances (e.g. on education, on mining, on industrialization, on abortion, on divorce, on federalism). And there's still 6 years to go. I am not even sure that what I think is right is really right and what I think is wrong is really wrong. I just hope that more people would participate in clamoring for the right and condemning the wrong, not just blindly following whatever happens during this term.
LASTLY, I won't won't WON'T comment on the rhetoric and delivery of the speech. I think to judge the president based on that is a sign of sophistication and discrimination. I should understand where he comes from, what he represents, and that there are other modes of communication aside from oral/verbal. Language appears not only in speech. I think that's one of the assumptions that mislead us today. HOWEVER, I really like that one SONA (not so long ago) that was delivered in pure Filipino. Good to the ears and conveys a certain feeling.
That's all for my rxn paper. Thank you.
-- END --