In my own humble opinion, YES. Peace can be attainable even without war.
But you may ask, how?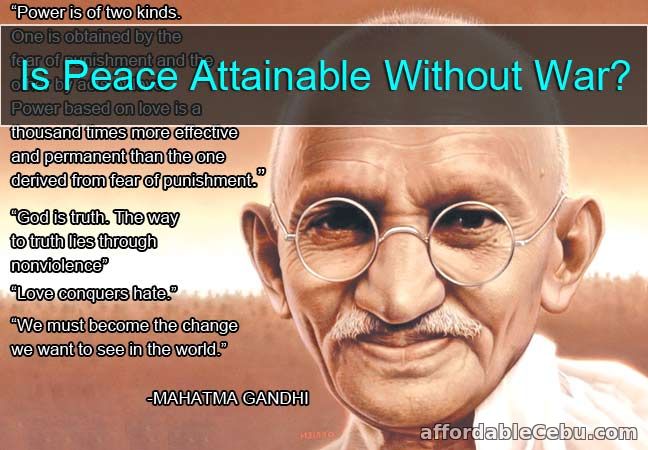 In the peace process, conflicting parties must understand that there is no clear winner or clear loser. They must both agree wholeheartedly to the terms of the winning conditions. This is the fundamental spirit of humanity.
Therefore the final settlement the parties willing to agree is nothing but the final outcome itself. They shall not build up their conflict on top of the outcome of the peace process.
To achieve peace without war is to understand the principles of "
give and take
",
humanity
,
forgiveness
and
non-violence
.
One way of bringing peace to the world is through "praying". I believed in Mahatma Gandhi's principle, "
Prayer is the only means of bringing about orderliness and peace and repose in our daily acts.
"
Other ways of attaining peace is understanding Gandhi's principles of humanity, peace, and harmony:
"Power is of two kinds. One is obtained by the fear of punishment and the other by acts of love. Power based on love is a thousand times more effective and permanent than the one derived from fear of punishment." - Gandhi.
"What difference does it make to the dead, the orphans, and the homeless, whether the mad destruction is wrought under the name of totalitarianism or the holy name of liberty and democracy?" - Gandhi
"There are many causes that I am prepared to die for but no cause that I am prepared to kill for." - Gandhi
"An eye for an eye will only make the whole world blind" - Gandhi
"We must become the change we want to see in the world. " - Gandhi
"Love conquers hate."
"I believe that Gandhi's views were the most enlightened of all the political men in our time. We should strive to do things in his spirit: not to use violence in fighting for our cause, but by non-participation in anything you believe is evil" - Albert Einstein
"God is truth. The way to truth lies through nonviolence" - Sabarmati March 13, 1927
It is through our self-interests, pride and prejudice that we raise conflict to other people. We must act not for our own benefit but for the benefit of all people. Serve others first.