If you accidentally subscribe to Enfactory or Entertainment Factory's services, your mobile phone or cellphone's account balance might be deducted per message sent from Enfactory. Some are surprised why their load (5 pesos or 10 pesos) are magically gone when they load their cellphones. Many mobile phone users are complaining with the unintentional subscription of its services. If you're one of them, you should follow the procedures below in order to opt out or unsubscribe from Enfactory and avoid unwanted charges.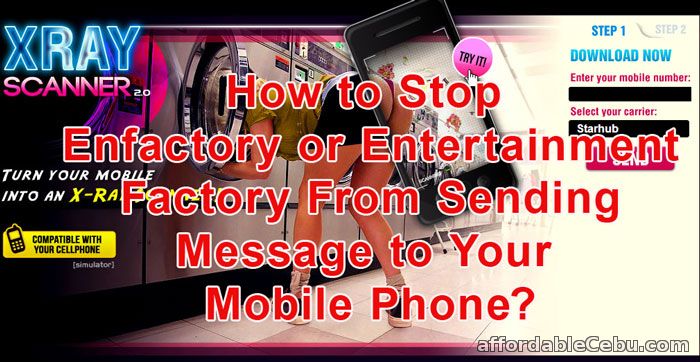 Enfactory offers different kinds of services. I'm not sure what type of service you're subscribing for. Follow the instruction below:
1.) You should determine who is the sender of the message, content or media.
2.) Take note of the sender's number. Some examples of Enfactory's number they use are 2474, 33123, 31300, 16261, 5444, etc. They use different numbers.
3.) Text STOP ALL and send to the number who sent the message, content or media. Examples would be:
Text STOP ALL and send to 2474 if the sender is 2474.
Text STOP ALL and send to 33123 if the sender is 33123
Text STOP ALL and send to 16261 if the sender is 16261
Other Options of Unsubscribing from EnFactory
Text

EF OFF

and send to

2474
Now you get the idea on how to unsubscribe to Enfactory's media services.
To give you an idea on what types of content Enfactory are sending, here are some of them:
IQ Test
Horoscope
Tarot Reading
Music
Videos
Images
Application
Sexy or erotic videos of women
The Owl's Test: How smart you are test
Buddy or Friend Locator
Popularity Test: How popular you are?
Body Age Test
Marriage Test: When will you get married?
Polygraph: Lie Detector Application for Mobile Phone
Turn Your Cellphone Into A X-Ray Scanner
The Baron Mobile Game
Discover what your baby will look like
Get your content from your favorite stars
Black Shark 2 Siberia Mobile Game
Remember: If you receive unwanted content to your mobile phone and decreases or it deducts your load (account balance), take note of the sender's number and text STOP ALL and send to the sender's number in order to unsubscribe to its services.
This method applies to mobile phone users from other countries as well.
Save your money, save your load.
If you're still having a problem or if you still receive messages, content or media from Enfactory, tell us in the comment below.
Or is your phone load (account balance) still deducted after unsubscription? Do you have another method of unsubscribing from Entertainment Factory (Enfactory)?
-
https://www.affordablecebu.com/