Some of you might ask particularly those who withdraw all their deposits (money) on their bank accounts (e.g Passbook account, ATM account, Visa Card, etc.),
"Will a bank account automatically close if it reaches zero balance?"
. Don't worry too much of your zero-balance account of getting closed. Why?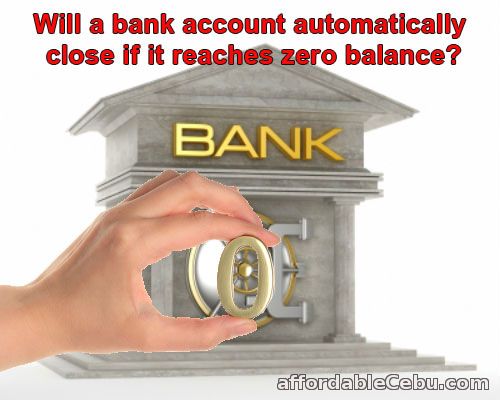 Answer
Typically, banks will not automatically close your account even it reaches zero balance or it has no remaining deposit. First, bank's computer system will automatically compute the penalty of your account if it falls below the required maintaining balance. Since your account has no balance or money at all, the bank will deduct some amount from your zero balance account. Hence, a negative amount of balance will be reflected to your account.
What if your account reaches 3 to 6 months with no balance? Will it be closed?
Banks will not close that account even it reaches 1 year with no balance. They will just deduct below maintaining balance penalty to that account.
If you have an account with zero balance in 6 months, the bank's computer banking system will automatically compute the below maintaining balance penalty. For example, if the required maintaining balance is Php 10,000 ($225) then you deposit Php 10,000 ($225) to an account with zero balance in 6 months, you should not be surprised if the reflected balance is just Php 9,000 or something. Banks will automatically deduct from your deposit but will not automatically close after 6 months with zero balance.
Most banks in the Philippines impose a 2-year dormancy penalty or closure. The bank will charge additional penalty or close the account with no transactions or account with zero balance in 2 years.
Tips:
To avoid account closure, you must leave an amount to your account equivalent to the minimum maintaining balance. The bank will never deduct to an account with minimum balance left.
Keep your account active by transacting to your account at least 2 to 3 times a year.
To keep monitoring your account balance, you can enroll to the bank's online or phone banking facility.
Are you having any problem with your zero-balance bank account?