Ronald Singson
(born on November 18, 1968), the son of famous Luis "Chavit" Singson, is the Representative in the first district of Ilocos Sur, Philippines. He is controversially reported for drug trafficking.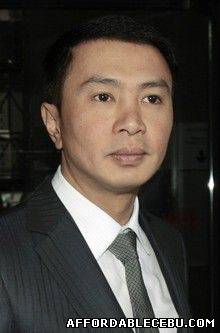 Picture of Ronald Singson
Early Life and Education
Ronald Singson
was born on November 18, 1968 in Manila, Philippines. His father is Luis "Chavit" Singson, a famous politician and a former Governor of Ilocos Sur, Philippines (2004-2007). His mother is Evelyn Verzosa. His parents were later separated.
Ronald Singson's parents are original residents from the northern spot of the Philippines-Vigan Ilocos Sur. Although Ronald spent his childhood in the said place, later when he started studying he moved to Manila where he resided at the Hillside Loop, Blueridge, Quezon City. But often did he go home for summer vacations. He was a typical child who loves to play and just enjoyed what a single day may bring. He grew up with a vouch of conservatism, since the standard of Catholicism was embedded in him. His uncomplicated Childhood made him unmindful of the loads of grim things. Nevertheless, Ronald was already sentient concerning the tricks his father Luis "chavit" Singson- former Governor of Ilocos Sur has been doing as a public servant.
Ronald entered primary school at the Ateneo de Manila University in Quezon City where he also spent his highschool days. Soon after, he then took up Bachelor of Science in Business Administration major in Management at the De La Salle University. This career path he chased in, motivated him to engage in a variety of businesses. He acted as President/CEO of SATRAP CONSTRUCTION CO. INC., Moreover, he assumed as General Manager of the SUPERB SECURITY AND INVESTIGATION and Vice President of the PARTAS TRANSPORTATION. In any case, these valuable administrative and managing experiences he had dwelled in, has endowed him the venues to discover the essentials and idyllic approach well matched for a young entrepreneur.
Political Career
Although, Ronald Singson thrives as a young entrepreneur, the time was not late for him to ponder about subsequently investing on what his ancestors and great father have devoted in within the realm of politics. He worked as board member (Sangguniang Panlalawigan) in Ilocos Sur, Philippines of which he served from 2001-2007. This span of time wasn't enough for him to maximize his aspiration as a public servant he knew then that it would be more worthwhile if he can take part in behalf of the national interest, thereby pushing him to run in the 2007 election where he won as a Representative in the first district of Ilocos Sur.
He was a member of different Committees in the house of representatives such as:
Sub Committee on Oversight - Chairman
Committee on Public Works and Highways – Vice Chairman
Committee on Appropriations – Member
Committee on Natural Resources – Member
Committee on National Defense and Security- Member
Committee on Ways and Means – Member
Committee on Economic affairs – Member
Committee on Games and Amusement – Member
Committee on Agriculture and Food – Member
Committee on Aqua-Culture and Fisheries - Member
House Bills and Resolutions
Ronald Singson passed a total of twenty-seven comprehensive house bills and timely resolutions within his one year and seven months stay in the Lower House of the Philippine Congress. Short lived as it was, these accomplishments in the legislature not to add-up his unquantifiable projects he vested in the first district of Ilocos Sur which basically focused on information revolution through upgraded technology, cyber education, e-commerce, water irrigation, agricultural, food security, peace and order- all for poverty alleviation. These would surely boost the productivity and efficiency of his constituents for their livelihood and well-being. Undoubtedly, this would further enhance his sense of "political stewardship" of which he had vitally come across into. Wherever course his feet could lead him in the near or even in remote future, one thing for sure is that, from such point of reference, he will not exactly make a replication of what his father has done. Somehow, there would be more exhilarating investments and more streamlined measures which are geared towards "economic revolution", he would consider –that lies ahead in his next ladder of serving the Filipinos.
Business and Personal Life
Ronald Singson was an executive producer of the concert of Usher. He is the owner of Channel V music station. He is rumored to have a relationship with the famous artist, "Lovi Poe". On July 9, 2010, Ronald Singson felt sad when his girlfriend, Lovi Poe, broke with him during the night of concert of the famous American singer "Usher" in the Mall of Asia Concert Grounds, Philippines
Picture of Ronald Singson and Lovi Poe
Life Struggle
While Ronald Singson went to Hong Kong for the concert of Usher, he was caught in Chek Lap Kok Airport possessing illegal drugs (6.67 grams of cocaine) on July 11, 2010, two days after a successful concert of the famous American singer in the Philippines.
Picture of Ronald Singson
On February 24, 2011, Ronald Singson was sentenced to prison for one year and six months of a case of drug trafficking. Singson's sentence, handed down by Judge Joseph Yau of the Wanchai District Court, was broken down to one year and four months for the 6.67 grams of cocaine caught in his possession at the Chek Lap Kok International Airport in July 11, 2010. The remaining two months, meanwhile, would be for the two tablets of sedative Valium, which Hong Kong authorities also confiscated from him.
In his guilty plea, Ronald Singson confessed that he went on a cocaine and gambling binge after he had a quarrel with his girlfriend, singer-actress Lovi Poe at the concert of international R&B singer Usher, an event he co-produced with actor Jomari Yllana.
On March 1, 2011, Ronald Singson resigned as a lawmaker.
Speaker Feliciano Belmonte received the resignation letter and on March 7, 2011, Speaker Feliciano Belmonte Jr. ordered that Singson be dropped from the roster of members of the chamber.