As a non-Filipino in a country, always bear in mind that learning a foreign language such as the Tagalog (Filipino) language is fun and yes, it's easy. As learning a new skill (playing basketball, tennis or golf) is fun, it's also fun to learn how to speak, write or communicate in Tagalog. It's even more fun if you're using the Tagalog language in courting, dating or talking to a Filipina you love. Let's now study the words, phrases, salutations and greetings that are commonly used in actual Tagalog conversations.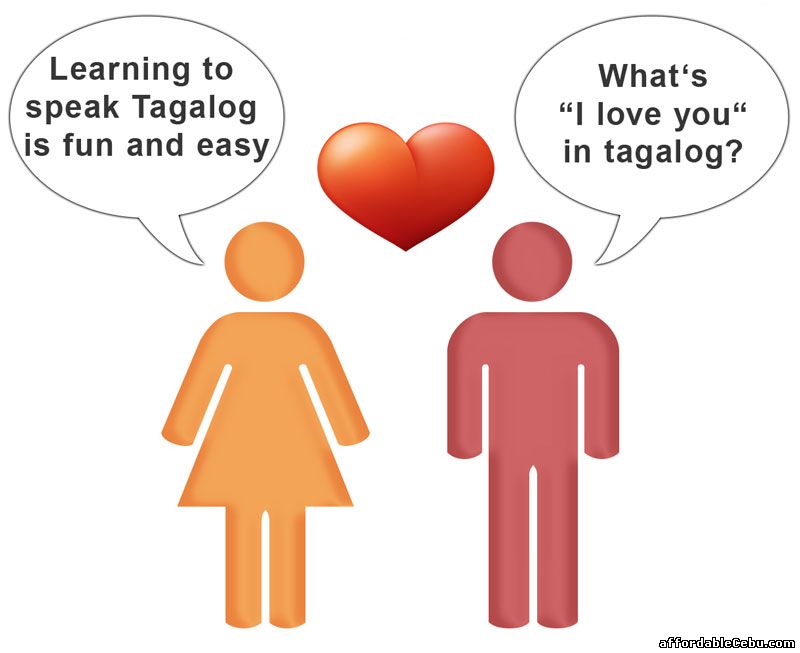 English to Tagalog Translation
English
to
Tagalog
Learning is fun
=
Ang pag-aaral ay masaya
Learning
=
pag-aaral
Learning how to speak Tagalog is fun
=
Ang pag-aaral kung paano magsalita ng Tagalog ay masaya
Fun
=
Masaya
Easy
=
Madali

Basic Greetings and Conversations


Good morning!
=
Magandang umaga!
Good noon!
=
Magandang tanghali!
Good afternoon!
=
Magandang hapon!
Good evening
=
Magandang gabi
Hi
=
Hi
Hello
=
Helo
How are you?
=
Kumusta ka?
I'm doing great
=
Mabuti
I'm fine
=
Ok lang ako.
Thank you very much
=
Maraming salamat

Knowing Someone


What's your name?
=
Anong pangalan mo?
My name is __________
=
Ang pangalan ko ay ___________
I'm Mr. Nice Guy
=
Ako si Mr. Nice Guy
Where do you live?
=
Saan ka nakatira?
I live in __________
=
Nakatira ako sa _____________
How old are you?
=
Ilang taong-gulang ka na?
I'm 25 years old
=
Ako ay may 25 na taong gulang
Are you still studying?
=
Nag-aaral ka pa ba?
What's your job?
=
Ano ba trabaho mo?
What's your business?
=
Ano ba negosyo mo?
Philippines is a beautiful country
=
Magandang bansa ang Pilipinas
Why did you stop studying?
=
Bakit ka huminto sa pag-aaral?
You're so beautiful
=
Napakaganda mo
You're so cute
=
Napaka-cute mo
You speak English well
=
Mahusay kang magsalita ng English
I like you
=
Gusto kita
I love you
=
Mahal kita
I want you
=
Kailangan kita
Do you have a phone number?
=
Meron ka bang phone number?
Can I see you through Skype?
=
Pwede ba kitang makita sa skype?
Are you living with your parents?
=
Nakatira ka ba sa iyong mga magulang?
You're welcome
=
Walang anuman

Agreement


Yes
=
Oo
No
=
Hindi
Maybe
=
Maaari
Of course
=
Siyempre
Do you agree?
=
Payag ka ba?
Do you disagree?
=
Tutol ka ba?
I disagree
=
Tutol ako
I agree
=
Payag ako
It's alright
=
Ok lang yan
I'm ready
=
Handa na ako
Let's go
=
Tara na
I'm sorry
=
Humihingi ako ng paumanhin
Come here
=
Pumunta ka dito
Help me
=
Tulungan mo ako
Goodbye
=
Paalam
I'm not feeling well
=
Masama ang aking pakiramdam
I don't know
=
Hindi ko alam

Basic Questions


Who?
=
Sino?
What?
=
Ano?
Where?
=
Saan
When?
=
Kailan?
Why?
=
Bakit?
How?
=
Paano?
What's this?
=
Ano ito?
Whom?
=
Kanino?

When Travelling


I come from ____________
=
Nanggaling ako sa __________
What are you doing?
=
Ano ang ginagawa mo?
Where are you going?
=
Saan ka pupunta?
I'm going to ________
=
Pupunta ako sa ___________
I'll arrive at _________
=
Darating ako sa ___________
When will you arrive?
=
Kailan ka makakarating?
Which bus is going to ______?
=
Anong bus ang papunta sa _________?
Where is the bus stop?
=
Saan ang bus stop?
Where is the bus terminal?
=
Saan ang bus terminal?
Where does this bus go?
=
Saan bibiyahe ang bus na ito?
How much is the fare?
=
Magkano ang pamasahe?
How far is ________?
=
Gaano kalayo ang ____________?
Where is _________?
=
Nasaan ang ______?
Near
=
Malapit
Far
=
Malayo
Fast
=
Mabilis
Slow
=
Mabagal
Stop
=
Hinto
Right
=
Kanan
Left
=
Kaliwa

When Eating Out


I'm hungry
=
Nagugutom ako
I'm thirsty
=
Nauuhaw ako
I'm full
=
Busog ako
That was a good meal
=
Masarap ang pagkaing 'yon.
Which is the best restaurant in here?
=
Saan ba ang pinakamagandang restaurant dito?
Where are we going to eat?
=
Saan tayo kakain?
Delicious
=
Masarap
Food
=
Pagkain
Eat
=
Kain

When shopping


How much is this?
=
Magkano 'to?
It's worth 100 pesos
=
Nagkakahalaga yan ng isang daan
It's worth 10 dollars
=
Nagkakahalaga yan ng sampung dolyar
How much is the discount?
=
Magkano ang discount?
Do you have hats for sale?
=
Meron ba kayong mga sumbrerong binebenta?
Do you have clothes for sale?
=
Meron ba kayong mga binebentang damit?
hat
=
sumbrero
clothes
=
damit
for sale
=
binebenta
I'd like to pay
=
Gusto kong magbayad
Expensive
=
Mahal
Cheap or Affordable
=
Mura

Emotional Expressions


You should be happy
=
Kailangan masaya ka
I'm happy
=
Masaya ako
I'm happy with you
=
Masaya ako kasama kita
Are you happy?
=
Masaya ka ba?
Are you sad?
=
Malungkot ka ba?
Are you afraid?
=
Natatakot ka ba?
Don't be afraid
=
Wag kang matakot
I love you
=
Mahal kita
Do you love me?
=
Mahal mo ba ako
Why are you lonely?
=
Bakit ka malungkot?
Don't fee sad
=
Wag kang malungkot
I'm here
=
Andito ako

Basic Salutations Used In Writing Letters


Hi
=
Hi
Hello
=
Hello
How are you?
=
Kumusta?
Greetings
=
Bumabati
Dear Sir
=
Mahal na Ginoo
Dear Madam
=
Mahal na Ginang
Dear Ms. _______
=
Mahal na Binibini
Dear Mrs. _______
=
Mahal na Ginang
Thanks and regards
=
Salamat at bumabati
Regards
=
Bumabati
With regards
=
May Kasamang Pagbati
With best wishes
=
May Kasamang Mga Magagandang Hangarin
With Love
=
May Kasamang Pagmamahal
With Affection
=
May Kasamang Pagmamahal
Respectully Yours
=
Lubos na Gumagalang
Lovingly Yours
=
Lubos na Umiibig
With Much Love
=
May Kasamang Labis na Pag-ibig
Sincerely Yours
=
Taos pusong Sumasaiyo
Yours Truly
=
Tapat na Sumasaiyo
There are other common Tagalog conversations, common sentences, phrases that might not be written here. I'll be writing them on the next part of this article.
If you want us to translate an English sentence, phrase or words into Tagalog, please let us know in the comment below. We'll be happy to translate them for you.
Happy learning!