DESCRIPTION :
Clients may request or secure a certified true copy of Tax Declaration of their property or certificate with or without Land Holding. (applicable in Cebu, Philippines)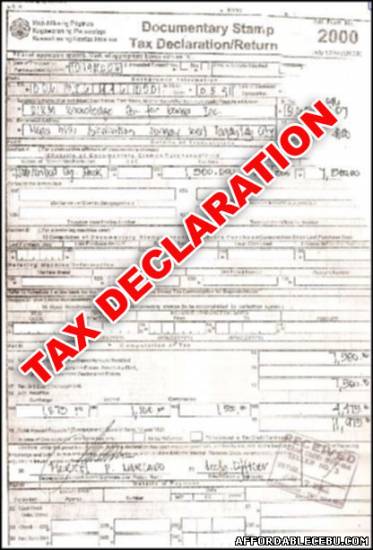 (Picture) Sample Tax Declaration Form
Want to get a certified true copy of Tax Declaration in Cebu? Follow the steps below.
CLIENT/S :
Property Owners or their representative
CONTACT PERSON/S:
Richard Gonzales
Contact/Telephone Number: 412-0000 loc. 302

LOCATION :
3rd floor, City Assessor's Office,
Executive Bldg., Cebu City Hall

AVAILABILITY :
Monday to Friday, 8:00 AM - 5: 00 PM
DURATION OF THE SERVICE :
30 minutes
FEE/S :
Official receipt for certification fee:
Php 40.00 for certified true copy
Php 40.00 for certificate of land holding
Documentary stamp (Php 20.00 )
PROCEDURES IN GETTING CERTIFICATE OF LAND HOLDING AND CERTIFIED TRUE COPY OF TAX DECLARATION IN CEBU
Follow these steps…

Wait while Person-in-charge…

Approach…

It will take…

1. Go to Window 1 to check if your property is registered in the office.

1. Receives OR

2. Checks TD files in the computer.

3. Prepares copy of TD/Certification

4. Records OR in the logbook

Assessment, Record Clerk (ARC)

5 minutes

2. Present OR, documentary stamp and the note given from Step 1 to Window 2.

5. AR Management Division Chief approves

6. Releasing clerk releases certificates

Assessment, Records Management (ARM) Personnel

20 minutes

3. Get certificate at Window 3.

5 minutes

Source: Cebu City Citizen's Guidebook
This information appeared first on the 2009 Version of the Cebu City Citizen's Guidebook published by the Cebu City Government through the efforts of the Mayor's Management Team.