For others who don't know what
diskless workstation
is, it is a computer connection set-up wherein several computers (called clients) can boot from a network provided by one computer (called server). It's called diskless because no hard disks (drives) installed in the computer clients. Only the computer server has the hard drive(s) where operating system has been installed. Computer clients will boot from that computer server through a network. So, it saves you money for the hard drives. Although diskless workstation set-up have many great advantages, it has also some disadvantages. Here are some of the bad side of diskless workstation set-up: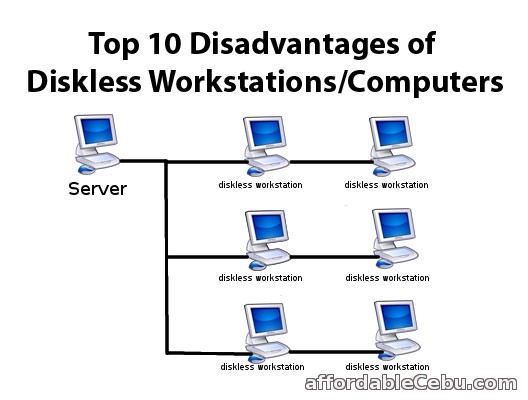 1.
If the computer server fails, all the computer clients are useless. Clients cannot boot.
2. All computer clients will fail if the centralized LAN (ethernet) cable has been damaged.
3. For amateurs, initial investment might be expensive for creating the computer server.
4. Computer components required in the server might be unavailable in some rural areas. LAN cards
5. Diskless worstations might be good only if you have more than 10 computer clients. Computer server consumes a big amount of electricity. If you have less than 10 computer clients, electric consumption of that server might cost more than the total electric consumption of all the hard drives of the computer clients. Computer server is always turn on. So PISONET internet cafe with less than ten units might find it expensive to maintain a computer server.
6. If you want to add a significant number of computer clients in a diskless set-up, you need to upgrade or buy a new computer server with higher specs.
7. Diskless boot software has a price. Some requires you to pay in subscription basis depending on the number of computer clients. The more computer clients, the higher the price.
8. You need to learn some technicalities of using the diskless boot software and a lot of troubleshooting guides for software-and-hardware-related issues of a diskless set-up.
9. If your computer server is infected by a virus, all computer clients might be affected also.
10. In order for some games and softwares to run properly on the computer clients, you need to fix some software-related issues in the server. You need to consult your diskless software provider regarding this.
Do you know other disadvantages of diskless workstations?