For new residents or foreigners in Oroquieta City, you might be asking where to pay or how to pay your electric bill in Oroquieta. Oroquieta is a small town and its very easy to go to the MOELCI office where you are going to pay your electric bill. You can follow the procedure below on how to pay your electric bill:
Step 1
You must bring your bill (MOELCI paper bill). You can see a photo snapshot of a MOELCI bill below:
You can see the amount of bill that you are going to pay on the bill above. It's indicated as
NET AMOUNT PAYABLE
.
Step 2
Go to the MOELCI office located at Gomez Street, Poblacion 1, Oroquieta City. This can be found at the back of the Iglesia Filipina Independiente or Philippine Independent Church (Aglipay Church).
Step 3
In the MOELCI office, you can see the payment center at the front. Get a priority number and pin your MOELCI bill at the payment window. If you find it difficult to get a priority number, get some help from a the MOELCI employee, security guard or a fellow MOELCI subscriber.
Step 4
Wait for your number to be called. When you number is called, go to the Window where you give or pin your MOELCI bill and pay your bill.
Step 5
Receive your official payment receipt. - finished.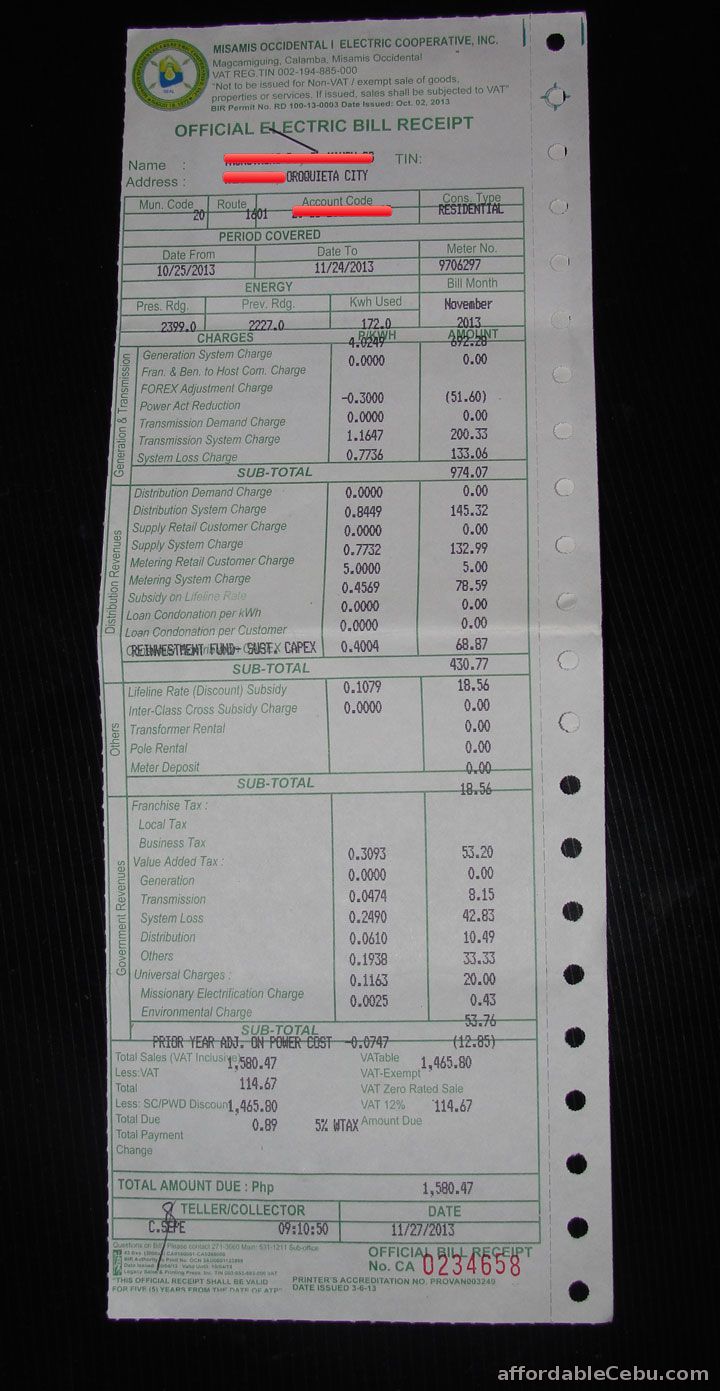 MOELCI Electric Bill Receipt
Recommendations/Suggestions:
Everytime I pay my electric bill at the MOELCI office, a lot of people/customers are waiting in line. I suggest MOELCI Oroquieta should implement online payment, bank payment or accept payments from accredited payment outlets/centers. This could give more convenience, more time and money to save for the customers. Just like Cebu's main electric utility supplier/provider VECO, they accept online payments, bank payments, and accept payments from accredited partner outlets.
To avoid waiting for a long line, you must pay your bill after the day you receive your bill. No need to wait for several minutes if you pay several days before the due date. You can see only two to three people are going to the MOELCI office who pay their bills. Avoid the Pinoy habit, the "Pinoy time", the "on-time sa due date pag nagbayad". Be early as possible to avoid the hassle and save time and money.
Do you have any concern or problem with MOELCI Oroquieta? Do you find it convenient to pay your electric bill in MOELCI office?
Are you having any problem paying your MOELCI bill at their office? Are you satisfied with MOELCI's payment system?