USSC Money Card
is a re-loadable prepaid debit card provided by Universal Storefront Services Corporation. The card works like an ATM in which you can withdraw your money and pay for shopping. You can go to a nearest USSC branch where you can apply for a USSC Money Card. No need to open a bank account and no need to maintain a monthly balance. As of the present date, the fee or cost for the USSC Card application is only 70 pesos. (USSC stands for Universal Storefront Services Corporation)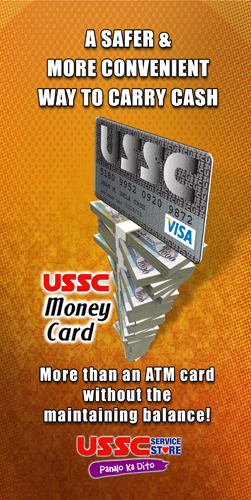 With your
USSC Money Card
, it's easier and more secure to carry your hard-earned money. "Cashless ang dating, parang credit card".
You can choose from 2 types of USSC Money Card: Generic and Personalized. With the USSC Money Card, you can withdraw money to almost any ATM in the Philippines and abroad.
For your shopping convenience, you can use the USSC Money Card when purchasing to any stores, gasoline stations, restaurants, drug stores, department stores, malls or business establishments that carries a VISA logo.
When you want to load your USSC Money Card, just go to any USSC Service Store in the Philippines and load it with money. Almost 700 branches of USSC in the Philippines are ready to serve you for your convenience!
Picture of USSC Money Card
More Features and Benefits of USSC Money Card
With USSC Cash Card, you may:
Withdraw cash through any Chinatrust, Expressnet, Megalink and BancNet ATMs nationwide and through VISA/ Cirrus and Visa/Plus ATMs worldwide.
Shop without cash.
for purchases at over 26 million Visa merchants worldwide.
for local purchases at over 60,000 VISA and Bancnet merchants.
pay or book tickets online such as tickets in Philippine Airlines, Cebu Pacific, Super Ferry, etc..

USSC Money Card Promotional Video
Frequently Asked Questions
1. How to Apply for USSC Money Card?


Prepare your Valid ID (required) and a 70 pesos cash (cost of the card as of the present date). Go to a nearest USSC branch ask an officer/employee to enroll for USSC Money Card. You will fill up an application form. And provide the needed id and cost of the card.


2. What are the types/kinds of USSC Money Card?


a. Generic Card - can be easily secured and loaded. You can get this within the time of your application. You can use this in the ATM the next banking day. This is more suitable to use as an ATM.

b. Personalized Card - the name of the cardholder is printed in this card. You can get this card within 10 days in Metro Manila and within 15 days in provincial areas (outside Metro Manila). Aside from being an ATM, this type of card is more suitable to use for paying or for shopping.


3. How to load or reload your USSC Money Card?


Go to a nearest USSC branch. Fill-out a loading form/slip. Present it together with your USSC Money Card, and give the amount you want to load and pay for an equivalent loading fee.


4. Is there a maintaining balance of the USSC Money Card?


No. Unlike a regular ATM, there's no maintaining balance of your USSC Money Card. You can even withdraw or cash-out all your money in the USSC Money Card without penalties or charges.


5. What ATM machines and retail outlets accepts USSC Money Card?


Anywhere in the Philippines or in the world, you can use your USSC Money Card in any ATM machines having a BancNet, Megalink, Expressnet or Visa logo. There are more than 8,500 ATM's in the Philippines and more than 1 million ATM's in the world.


6. Are there any charges when using USSC Money Card in shopping or buying?


No. There are no hidden charges when you purchase or shop using your USSC Money Card.


7. How to inquire load balance online?


Go to http://www.bancnetonline.com/.




Some Usual Problems You Might Encounter
1. You might be having trouble with the withdrawal fee in an ATM machine.


Some ATM machines don't deduct a withdrawal fee at the first moment you withdraw money. At the second or third time, the ATM machine will deduct double or triple withdrawal fees. The problem is not in the USSC Money Card but in the ATM machine itself. The best thing to do is report this problem to the bank.

Few Reminders (Some Limitations)
1. You cannot link USSC Money Card to Paypal. USSC is not yet affiliated to Paypal. As of now, you cannot purchase online using this card.

2. You cannot use USSC Money Card for remittances such as accepting money from outside the Philippines.

3. You cannot use USSC Money card to purchase gold credit on games in Facebook.

4. You pay 20 pesos for every 10,000 pesos load of your USSC Money Card.

5. You can't transfer money/funds from USSC to Paypal or vice versa.


Do you have questions? You can post them in the comment below.