To build a strong concrete house or concrete structure, you also need to use strong concrete hollow blocks. Hollow blocks are usually used for walls. A strong concrete wall is the first line of defense when natural disasters happen such as earthquake and typhoon.
It is therefore important that you use strong hollow blocks. But how could you determine strong concrete hollow blocks?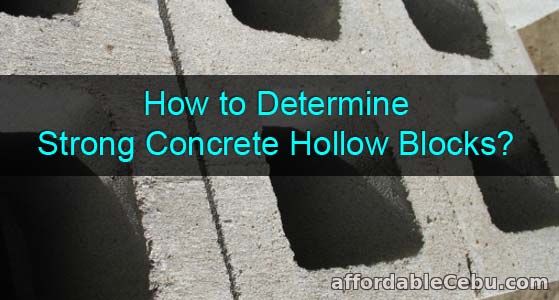 According to
Build Change
, a non-profit construction engineering company who won a 2006 Excellence in Structural Engineering Award, good quality and strong hollow blocks have the following characteristics:
No cracks and chips.
Blocks should not have an overly porous texture.
Blocks should be in 15 centimeters (or 6 inches) wide minimum.
Blocks should be grey in color.
When two blocks are hit together, the sound is a metallic clunk and not a dull thud.


When buying concrete hollow blocks, you should remember the following:
Use at least 6" (15cm) wide hollow blocks
Don't use thin blocks
Don't use chipped or cracked blocks
How to Test Hollow Blocks If They're Strong or Not?

Before buying hollow blocks you need, you can test the strength of the hollow blocks by dropping them from shoulder height.
Test five blocks at a time. If two or more break, it means they're not strongly made hollow blocks. Find hollow blocks elsewhere. -
https://www.affordablecebu.com/