PHILHEALTH ONLINE REGISTRATION: This guide is for the PhilHealth members only. Non-members cannot register thru this procedure because PIN (PhilHealth Identification Number) is required upon registration.
Take note: This is not a membership registration tutorial. This registration process will only allow you to access your PhilHealth account online. You can conveniently access your Premium Contributions or Payment History and your profile. You can also access and print your Member Data Record (MDR). Did you remember that MDR is a document that PhilHealth issued to you after you successfully registered in their office? And by the way, you can also reset your password if you want.
So, How Can You Register in PhilHealth Online?
1. Go to the Official Website of PhilHealth (www.philhealth.gov.ph). Find the member inquiry box located in the right side bar of the website. And click the Register link.
PhilHealth Website Homepage
2. You will be redirected to the registration form. Enter the appropriate information in the blank fields. Take note: PhilHealth Identification Number (PIN) is required. Non-members don't have it. If you're not yet a PhilHealth member, you must go to a PhilHealth office and apply for membership. You can pay for as low as Php 200 per month as self-employed or individually-paying.
The red asterisk (
*
) in this Registration Form means required.
Important:
An active
email address
is also required to fill-out. You need an email address where you can receive the Activation Link. PhilHealth will send you a message containing Activation Link to your email. And you need to click that link in order to activate your account. So, without an email, you cannot proceed to the registration process.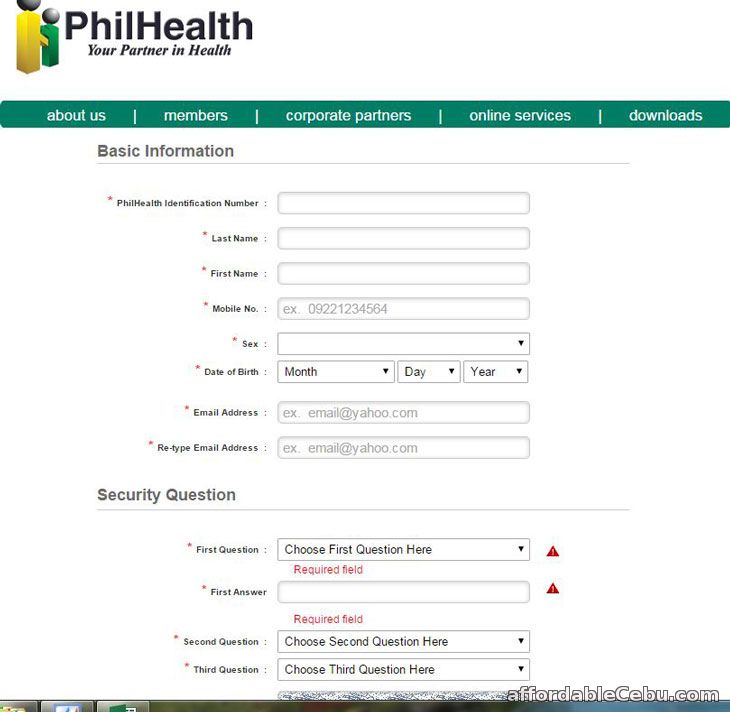 PhilHealth Online Registration Form
3. After you filled-out the registration form, the system will sent you the confirmation message and the activation link to your email. Click the activation link to activate your account.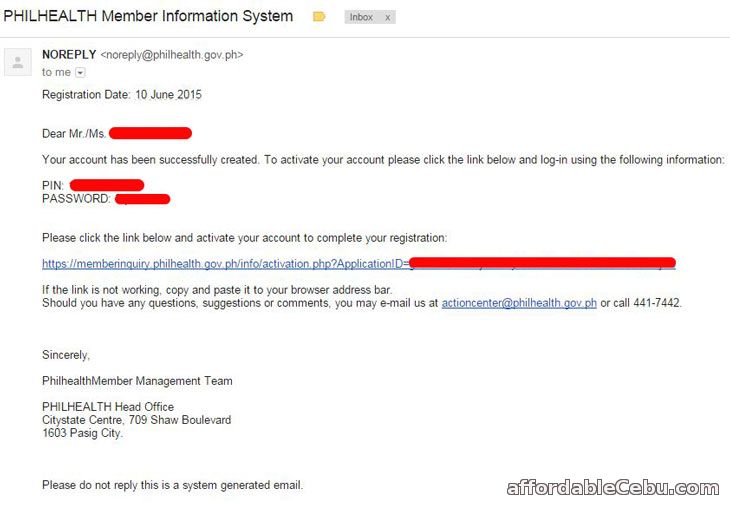 PhiHealth Activation Link Sent to your Email
---
Transcription of the Email Message:
Dear Mr./Ms. ***** *******
Your account has been successfully created. To activate your account please click the link below and log-in using the following information:
PIN: ************
PASSWORD: ******
Please click the link below and activate your account to complete your registration:
https://memberinquiry.philhealth.gov.ph/info/activation.php?ApplicationID=g*************************************
If the link is not working, copy and paste it to your browser address bar.
Should you have any questions, suggestions or comments, you may e-mail us at actioncenter@philhealth.gov.ph or call 441-7442.
Sincerely,
PhilhealthMember Management Team
PHILHEALTH Head Office
Citystate Centre, 709 Shaw Boulevard
1603 Pasig City.
- END -
---
4.
After clicking the
Activation Link
, you will be redirected to a confirmation message in the PhilHealth website which states:
FINISHED! You're now registered, activated. You can now access your PhilHealth account online.
What's Inside Your PhilHealth Account? What Are The Features You Can Access?
You can access the following features:
Your Profile
Your Premium Contributions (or Monthly Payment History)
MDR (Membership Date Record) Printing
Reset Password
Personal Profile
In the Profile page, you can view the following details:
Your PhilHealth Identification Number (PIN)
Name
Gender
Date of Birth
Martial Status
Address
Dependent/s
etc.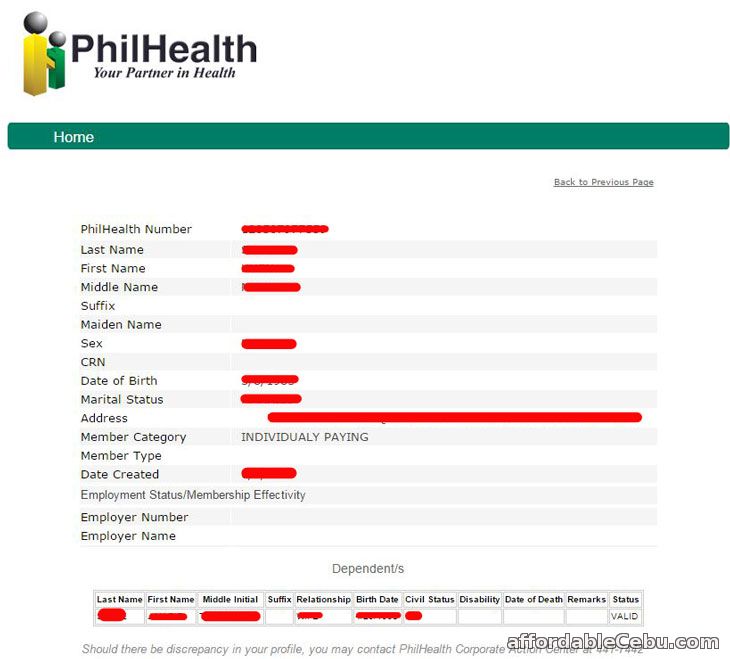 Profile page of a PhilHealth Member
Contribution (Payment History)
You can also see your monthly payment (contributions) shown in the photo below:
Member Data Record (MDR)
When you click the MDR Printing link, you can view your Member Data Record (MDR), the document issued to you by PhilHealth upon registration in their office.
Reset Password
Clicking the Reset Password link will get you to the Reset Password Page where obviously you can reset or change your password.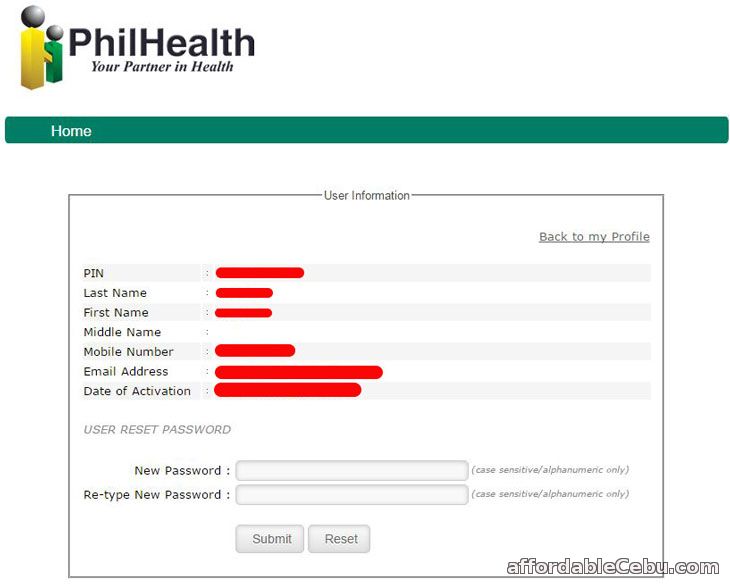 Are you having any problems in registering in PhilHealth online? Do you find the PhilHealth Online Registration convenient for you?