If you reach the age of 18 or above and as a first timer, it's usually exciting to participate and vote in the political elections in the Philippines. Many Filipinos particularly those who are in poverty love the idea of selling their votes. They vote for a particular candidate for a price (money). That's why many of them are so excited to register as a voter in the Philippines. Reminder: Vote-buying should not be the reason for voting a candidate. For those who are first timers, here's your guide on how to register as a voter in the Philippines.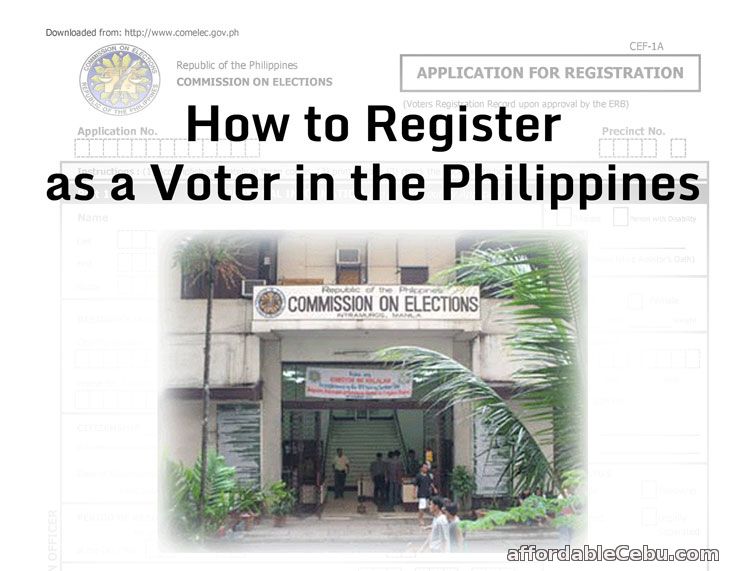 1.

First, you must ask yourself, "

Am I qualified to vote?

". Here are the qualifications for a person permitted to vote in the Philippines:
a Filipino citizen, who is not yet a registered voter;
eighteen (18) years old and above
a resident of the Philippines for at least one (1) year
a resident in the place (baranggay, city or municipality) wherein he (or she) plans to vote for at least 6 months
or if you're not disqualified by law
2. Bring your valid ID (at least one). Here's a list of valid ID's that are accepted:
Birth Certificate (NSO copy or Local Civil Registrar Copy)
Student's ID
Postal ID
Driver's License
Passport ID
Employee or Company ID
PWD Discount ID
NBI Clearance
SSS/GSIS ID
UMID (Unified Multi-Purpose ID)
PRC ID
any other valid ID (List of Valid ID's in the Philippines)
If you're married and both you and your spouse wanted to register, you can bring just a copy of your marriage certificate.
3. With your valid ID at hand, go to the COMELEC Office (Commission on Elections). If you do not know where the COMELEC office is located, just ask your neighbor or any of your Baranggay officers. They will be pleased to let you know.
4. Inside the COMELEC office, be courteous and ask anybody that you want to register as a voter. They will then ask some questions and they will give you Registration Forms (in three copies). You need to fill them out in three copies. Why three copies? One copy for Election Officer, one copy for Provincial File and one copy for Central File. You need to write eligibly (clearly).
Aside from the personal data, some of the information you need to provide are the following:
number of years and number of months (Period of Residence) residing in the City/Municipality
number of years residing in the Philippines
Profession/Occupation
TIN
etc.
Here a snapshot of the Voter's Registration Form:
5. Review your write-up. Make sure the required fields are filled-out. Then submit these forms to the COMELEC staff/officer. They will check and verify all the information you write. The information will be encoded on their computer. They will capture an image of your face through webcam. That's why you don't need to bring and submit ID pictures. They will also capture your fingerprints through a Biometric fingerprint scanner. Your also going to thumbprint (left and right thumb) on the Voter's Registration Form. This will get you messy.
6. Then, don't forget to get an Acknowledgement Receipt and a copy of your Precinct Number where you are going to vote.
Tips and Suggestions
Very important: Don't forget to bring you valid ID upon registration. COMELEC will deny your application for registration if you don't have it.
Do you want to register as a voter in the Philippines? Do you have any problem registering in COMELEC?