I would like to tell you that SSS website (https://www.sss.gov.ph/) really disappoints me.
I bet you feel the same way too.
You might be here reading my article because you're having a problem registering to SSS website. You might be encountering an error when you register to SSS website.
In my experience, I tried several times registering by entering the required information on the SSS Online Registration Form. But I always encounter an error during the registration process.
Do you know what I did in order to successfully register to the SSS website and view my SSS account online?
Very simple.
I went to the SSS office in our city and told them that I want to register in the SSS Website online.
Take note

:
SSS office may require you to present valid id. So make sure you bring your valid id.
I told them my concern and the SSS employee was happy to accommodate my request. Then, she ask me my name and my SSS number. And she's the one processing the registration of my account to the SSS website. I was told to create my own password and enter it to my newly created account. And it was successful. The registration was successful. She told me to log-in to my email and click the link (activation link) sent to me by the SSS online system.
I went home, checked my email and viola! I received an email from SSS. Here's the message I received from SSS website:  
---
noreply@sss.gov.ph
Sep 28 (5 days ago)

to me

Dear Ms./Mr. S****,

You have successfully registered in the SSS Website. Please activate your account by clicking the link below.

http://www.sss.gov.ph/
sss/eCenter_Confirm.action?
memberType=
mem&eTicket=FD02*****

You may login to the SSS Website after account activation by encoding the following log-in information in the Member tab of the log-in page:

User ID: *******
Password: *************

You are responsible for ensuring that your User ID and Password are secure and that your My.SSS Account will not be accessed by unauthorized persons.

Should you need assistance in accessing your account, please email us at onlineserviceassistance@sss.gov.ph, indicating your SS number, birthday and complete name to facilitate verification or call the SSS Hotline at (632) 920-6446 to 55 (available 24 hours from Monday to Friday except during holidays).

Thank you for using the SSS Website.
This is a system-generated e-mail. Please do not reply.

--- END OF EMAIL MESSAGE ---
---
Then, I clicked that link and have my SSS online account activated.
And now, I can log-in to my account in the SSS website and I can view my SSS contributions. Not only that, I can also view the following information:
Member Info
Monthly Contribution/Premium Payments
Member Details
Employment History
SSS ID Card Status
Claim Info of Benefit
Monthly Pension Payment History
13 Month Pension History
Claims Clearance
Tracer Log
Claims Maintenance
Benefit Increase Info (EC Benefit Increase Info, SSS Benefit Increase Info, Funeral Benefit Increases Info)
Sickness Benefit Claim History
Maternity Benefit Claim History (for female members only)
EC Medical Benefit
Maternity Notification
MEDVS Notification
Loan Status/Loan Info
Education Loan Status/Info
Loan OTV Payment
Loan Restructure Info
Eligibility of Loan
Different Documents/Informaton about claims on Medical Reimbursement, Death, Disability, Funeral, Maternity, Retirement, Sickness
etc...
Snapshots Inside Online Account of SSS Website
Here are some snapshots inside my online account in SSS website: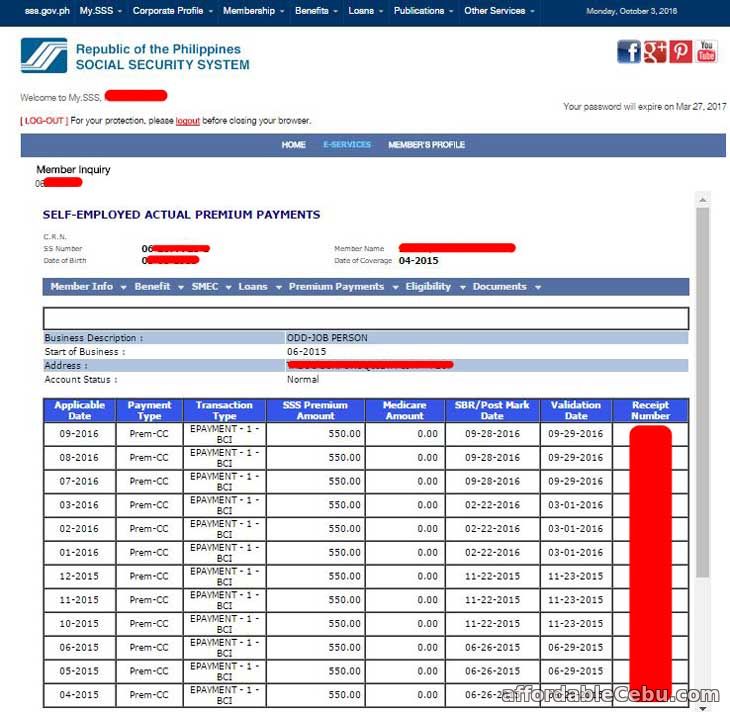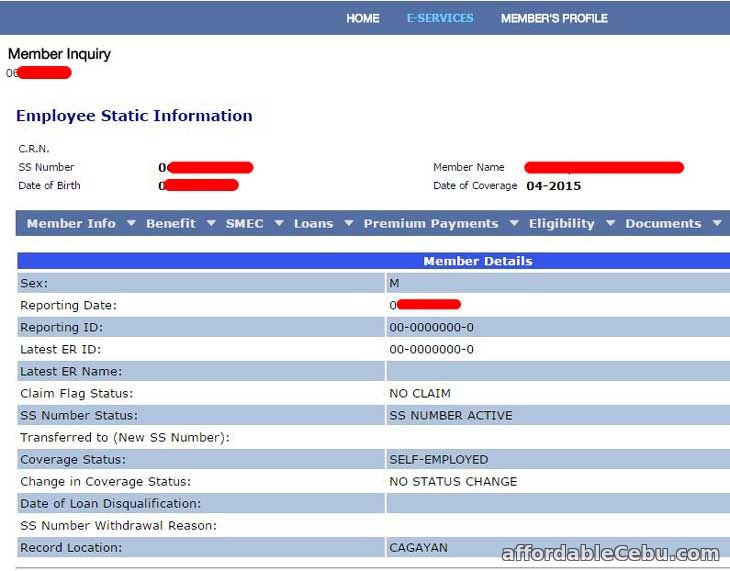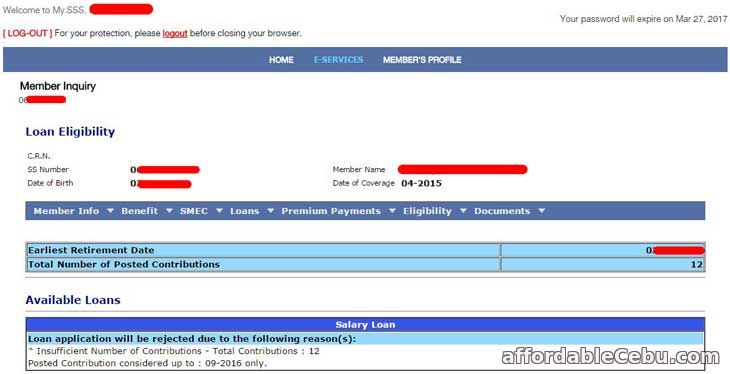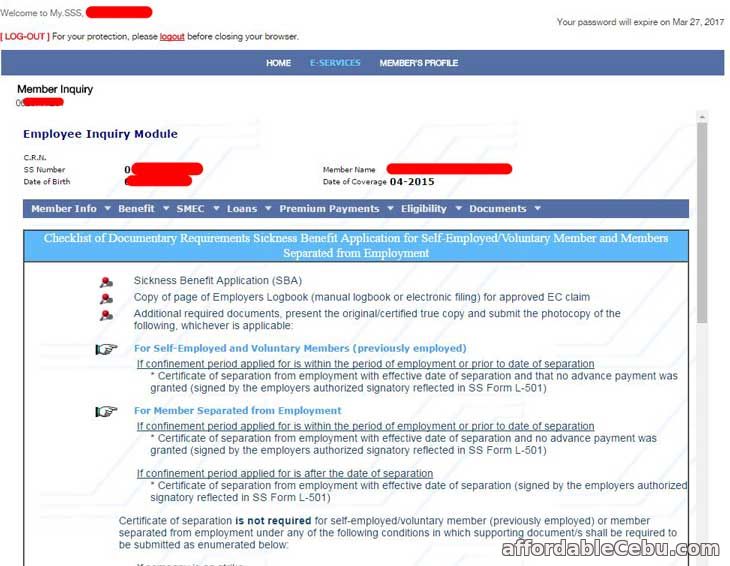 It's surely convenient to access your SSS information online. Register online to the nearest SSS office.

Are you having a problem registering or accessing to SSS website?