A time would come that you really need a

TIN

(Tax Identification Number). TIN is required for tax purposes. Like for example, if you want to start a business (registered as Sole Proprietorship), or you want to avail loan, credit card, passport or visa, it requires tax documents such as TIN. Like me, my stockbroker requires me to submit my TIN. This means I cannot invest in stocks without the TIN. Whatever your reasons are, here's a guide on

how to get your TIN online in the Philippines (

free

)

.




Take note:

This registration process is only applicable to Single Proprietors, Professionals or Self-Employed. Issuance of TIN in this process is

free of charge

. The BIR online registration system will instantly give and send you the TIN to your email after you completely sign-up registration forms. That's why, you need an active email to receive the confirmation link and the TIN.



Step 1




Go to the BIR TIN online registration website (https://ereg.bir.gov.ph/). Below is a screenshot of the initial sign-up form of the website.



The asterisk (*) means it is required to fill-out the blank field. After filling-out the form, click the Submit button. You will be redirected to the next page.
Step 2
Answer some few questions.
Take note of the pattern of the answers: NO, YES, NO, YES, NO. After answering all questions, click the Submit button.
A confirmation link will be sent to your email. The BIR system will notify you as you can see on the screenshot below.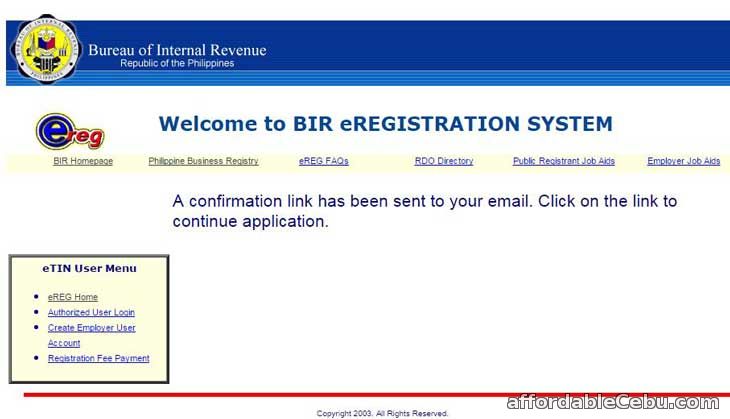 Check your email. Follow the instructions stated on your email. Click the given link for confirmation.
Step 3
Read and accept the e-REG Terms of Service Agreement.
Remember: Possession of more than one (1) Tax Identification Number (TIN) is criminally punishable by law. So, you need to secure or get one TIN only.
Step 4
You are now proceeding to Registration Page 1:
In this registration page, Registering Office, taxpayer's name including the Date of Birth and Date of Registration are automatically filled-out by default.
Important Reminders for the following fields:
RDO Code - will be automatically filled-out after you choose your Province and City/Municipality under Residence Address. That's why you need to choose Province and City/Municipality first in order for the RDO Code to automatically appear.
Province - choose which province are you living.
City/Municipality - choose which City/Municipality you live.
District - you can leave it blank.
Barangay - put the name of the Barangay you live.
Street, Substreet, Vicinity - you can leave them blank.
Zip Code - it's required to put the zip code of your city/municipality
Telephone - your telephone or mobile phone number is also required to put.
Below is the continuation screenshot of the Registration Page 1. As you can see, Business Address is required to filled-out. Just check the box [ Use residence address as business address ].
As usual, enter the following details in the following fields:
Zip Code - same zip code as Residence Address
Telephone Number - same telephone or mobile phone (cellphone) number as Residence Address
Email Address - enter your working or active email address
Business/Trade Names - write your full name (First Name, Middle Name, Family Name)
PSTC - choose what industry you belong
PSOC - you can choose other business professionals
Then, in the Facility Details and so on, you can leave this portion/part blank. Then, click the Next button.
Step 5
Let's proceed to Registration Page 2. There's no need to fill-out in this page. Click "Next" button to proceed.
Step 6
In the Registration Page 3, choose the information applicable for you. This is how I filled-it out shown in the screenshot below:
Step 7
In the Registration Page 4, you can fill them out if you have those information such as your SSS Number, GSIS Number and PRC Number.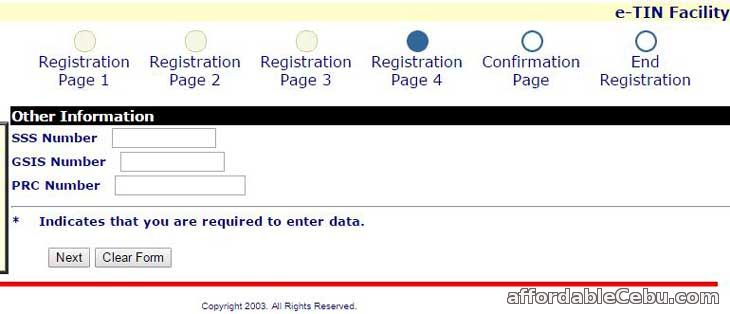 Then click the "Next" button.
Step 8
You will be redirected to the Confirmation Page where you can review all the information you've entered. You can choose to go back to particular Registration Page to edit your information.
Click the Confirm button.
You will be redirected to the Confirmation Page...
You will receive a TIN Confirmation message to your email...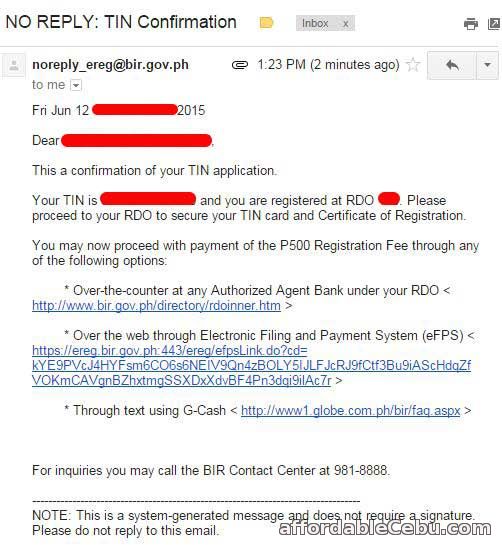 This message contains your TIN (Tax Identification Number) as what you can see on the screenshot above.
CONGRATS if you have received your TIN.
Do you want to get a TIN online? Or you having problems in registering to the BIR eREG Online TIN Registration System?