Artificial intelligence (AI) is changing how we interact with the world and each other. From health care to fashion, it affects our way of life. And a lot of these new technologies incorporate AI in their innovations. 
The world is rapidly moving towards the use of
intelligent gadgets
. Consumers benefit greatly from these technologies, which aim to minimize human work as much as possible. These gadgets can usually work autonomously.
There is no denying that these gadgets are the future. As technology evolves and devices become wiser. We are also expected to see a ton of AI in our gadgets in the near future. Because of artificial intelligence, gadgets are now assisting you with the majority of your tasks.
Let's check out what artificial intelligence is and look at how gadgets use AI.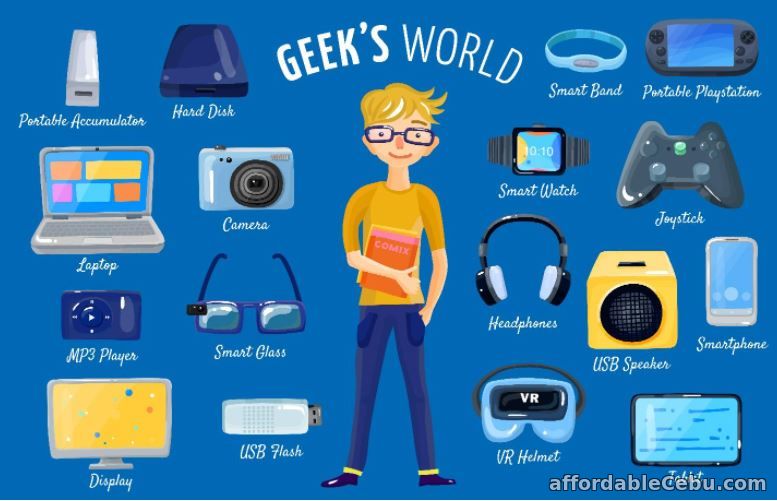 What Is Artificial Intelligence?
AI is the ability of a machine to learn, reason, and make decisions. It is a term used to describe the intelligence of machines and computer programs. We can see that artificial intelligence has come a long way in the last decade. It can even be found in a lot of modern applications today.
While some have used AI to make their lives easier, others have tried to make the technology more human-like. Most of the time, this is just for entertainment. But the point is that AI has a lot of power and if used correctly, can help us in many ways.
Artificial intelligence is not a futuristic concept anymore. It is something that is being used and improved every single day. There are many different ways that artificial intelligence is used. Some of the most effective AI methods are software, robotics, and virtual assistants. 
AI is also designed and implemented using machine learning (ML). It is done through machine learning models. These models are used for automation with the help of computers. 
Now, computers can make decisions and take actions independently after being told what to do. Some computers do not need any human intervention or processing of information to make choices.
In the gadgets where you need to deploy multiple ML models, you need MLOps. MLOps stands for machine-learning operations. It refers to a set of strategies for improving the quality of ML models. MLOps streamlines the management and automates model deployment in massive production systems. It reduces the time and cost for continuous testing and deployment of ML models.
 
Gadgets Using AI
AI has become one of the most talked-about fields in tech. This technology has been in development for decades, and today, many devices use it to help us. But how do the gadgets we have today use AI?
Virtual Assistant
Apple's Siri, Amazon's Alexa, and Google's Assistant are all AI-powered devices. These devices can do almost everything. They can start by telling you the weather, controlling your lights, and ordering your food.
These virtual assistants are carried by a lot of gadgets. These include our smartphones and smartwatches.
Security
The world is becoming a more dangerous place. With the rise of technology, there has also been increased criminal activity. Security systems are now using artificial intelligence to protect people and their property. People can feel safer and sleep better at night knowing that there is a surveillance system. 
A biometric approach for image recognition detects and confirms a person. It uses a face database to evaluate chosen facial traits from a video source frame. An algorithm, for example, looks at the width between the eyes. The necessary data should then be encoded as "facial prints," which can be used to discover relevant connections in a target database. 
People often wonder how these systems work, and the answer is through different technologies. For example, they usually have infrared scanners that can detect heat signatures. They can tell if someone is trying to break in through the front door. They can also use facial recognition technology to identify people who are not supposed to be on the property, such as a burglar.
In our everyday lives, we can see security powered by AI when we use our smartphones and door locks for fingerprints and other biometric verifications.
Source FreePik
Path Sensor and Tracker
Drones are powerful gadgets. They can be used for different applications in society. Like taking photos while being controlled by an app. Drones are also used in agriculture to spray pesticides and crop dusting. Surely, drones are an interesting case for artificial intelligence. They use AI to understand the world.
Drones rely heavily on computer vision if it's powered by AI. A neural network is used to do high-performance image recognition in computer vision. A neural network is a layered architecture for implementing ML algorithms. 
Drones can recognize, classify, and track objects along their path with the help of neural networks. They can prevent crashes and track things by combining this data in actual time.
Customer Service
AI has the potential to help clients find the content they need more quickly. It aids in the analysis of client data and critical indicators. 
AI-based systems can also recommend items or services based on their browsing/buying habits. It works by analyzing large data sets, extracting information such as climate and geography, and recommending valuable content to users.
AI chatbots are excellent at answering basic customer questions. A chatbot is a computer program that can be used to simulate conversations with human users. 
These bots are often used for marketing purposes. Businesses develop bots that can provide helpful information about their products. It can increase brand awareness and even send discount codes.
The communication humans have with chatbots is driven by machine learning algorithms. It uses NLP techniques to decompose your messages into human-spoken languages. Then, it responds to your queries similar to what you can expect at the other end. 
Source FreePik
Image Processing
Cameras are getting smarter every day. The process starts with the camera identifying a scene and then taking a photo, but that's just the beginning. It is then up to the human eye to edit the image.
Cameras are starting to use artificial intelligence. By machine learning and artificial intelligence, cameras can identify pets, people, and landscapes. This makes it easier for us to find a person or place in our galleries.
The image processing has gotten better than we even thought was possible. For example, if we look into our smartphone's gallery, we can see AI. Our gallery uses facial recognition and image processing to filter the person in different photos. 
The AI will then create a compilation of photos that includes each person in your gallery. Some newer updates are blur detection features. A notification will pop up if the photo you took was blurry.
Motion Sensor
A self-driving car can sense its surroundings. This is why it could fully operate without human intervention. A self-driving automobile can go anywhere a conventional vehicle can and accomplish everything a skilled human driver can do.
Artificial intelligence assembles data using a variety of recognition algorithms. It collects data using a blend of detectors, radars, and cams. Whereas cameras can identify nearby objects, sensors can track the locations of vehicles, and radars can help calculate distances. This enables the AI in the system to make crucial split-second judgments.
Final Thoughts
The AI revolution is upon us. Artificial intelligence is becoming more and more advanced every day. There are now gadgets that can think for themselves, watch movies, and talk to us. Even AI can learn new things and improve themselves over time. It is truly the dawn of quantum computing. Many people are excited about the possibilities of a new AI revolution.
AI is everywhere, and it's not going anywhere any time soon. People need to start getting acclimated to how these machines work. You can also break down your favorite gadgets and AI features you can expect to see.