Are you craving for
Albertos Pizza
?
Do you want to choose which of their
pizza
that deliciously suits your taste?
Here's a
Menu of the Albertos Pizza
. They are mainly categorized into three (3): the
Quickmelt Cheese menu,
the
Mozzarella Cheese menu
and the
combination of both
. Choose which pizza you're craving for.
Albertos Pizza Menu with Pricelist (2021)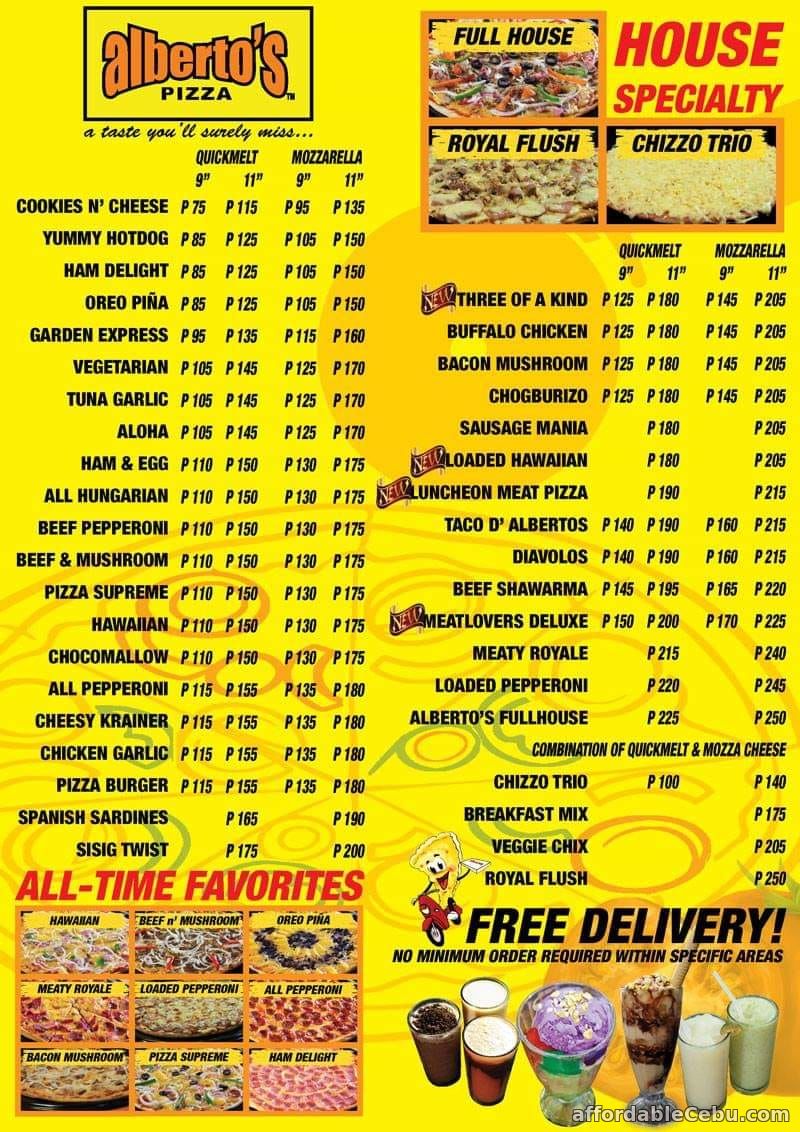 Combination of Quickmelt and Mozzarella
Chizzo Trio - Php 90 (9" inches size) and Php 130 (11" inches size)
Breakfast Mix - Php 160
Veggie Chix - Php 190
Royal Flush - Php 240
Quickmelt Cheese Menu
Pictures
Name and
Description of Pizza
Size
and Prize
9" (inches)
11" (inches)
COOKIES n' CHEESE


crushed Oreo cookies

Php 95
Php 135
YUMMY HOTDOG


All hotdog

Php 95
Php 137
HAM DELIGHT


All ham

Php 100
Php 140
ALBERTO'S FULL HOUSE


Ham, Salami, Hungarian, bacon, pepperoni, chicken hotdog, beef minced, chicken minced, Mushroom, pineapple tidbits, black olives, onions, red and green bell

Php 250
TUNA GARLIC


Tuna flakes, tomatoes, onions sliced



Php 95
Php 135
GARDEN EXPRESS


Button mushroom, pineapple tidbits, Black olives, onions, tomato, red and green bell

Php 95
Php 135
OREO PIÑA


crushed Oreo cookies with pineapple

Php 100
Php 140
GARDEN EXPRESS


button mushroom, pineapple tidbits, black olives, onions, tomato, red & green bell



Php 105
Php 145
VEGETARIAN


cucumber, lettuce, tomatoes, mushroom, onions, red and green bell, black olives

Php 110
Php 150
TUNA GARLIC


tuna flakes, tomatoes, onions sliced

Php 110
Php 150
HAM & EGG


ham, ham sausage, hamonado, egg, tomatoes, onions

Php 115
Php 155
ALL HUNGARIAN


All Hungarian with hot and spicy sauce

Php 115
Php 155
ALL PEPPERONI


All pepperoni with hot and spicy sauce

Php 115
Php 155
BEEF PEPPERONI


with beef pepperoni



Php 115
Php 155
BEEF AND MUSHROOM


Ground beef, mushroom, and onions

Php 115
Php 155
ALOHA


lots of pineapples, ham sausage, mushroom, green bell

Php 115
Php 155
CHEESY KRAINER


all cheese krainer

Php 120
Php 160
CHICKEN GARLIC


Chicken hotdog sliced, chicken minced, tomato red, onions sliced

Php 120
Php 160
BACON MUSHROOM


Bacon, mushroom, ground meat, tomato, onions

Php 145
Php 205
HAWAIIAN


Ham, bacon, pineapple, mushroom, onions and green bell

Php 120
Php 160
PIZZA BURGER


bacon, mushroom ground beef, tomatoes, onions

Php 125
Php 170
CHOCOMALLOW


choco stick, oreo, marshmallow, & choco syrup

Php 125
Php 170
SPANISH SARDINES


spanish sardines, carrot, pickles, tomatoes, onions

Php 135
Php 180
BUFFALO CHICKEN


chicken minced, pineapple, onions, red bell, buffalo sauce

Php 135
Php 180
SISIG TWIST


pork sisig, onions, red bell, calamansi

Php 200
CHOGBURIZO


chorizo de Cebu, ham sausage, onions



Php 145
Php 205
SAUSAGE MANIA


cheese krainer, hungarian, hamonado, ham sausage

Php 205
PIZZA SUPREME


Pepperoni, bacon, mushroom, onions, pineapple tidbits, black olives and green bell

Php 120
Php 160
TACO D' ALBERTOS


Ground beef, lettuce, tomatoes, black olives, onions, red and green bell

Php 155
Php 215
DIAVOLOS


Hot and spicy beef, onions, bacon, pepperoni and red bell

Php 155
Php 215
MEATLOVER'S


Ham, salami, hungarian sausage, ground meat, onions, red and green bell

Php 150
Php 210
BEEF SHAWARMA


Ground beef, cucumber, lettuce, tomatoes, onions

Php 155
Php 215
MEATY ROYALE


Hungarian,pepperoni,salami,ham,bacon, w/ mozzarella cheese

Php 240
PEPPERONI OVERLOAD


beef pepperoni, pork pepperoni with Mozzarela cheese

Php 245
For
FREE delivery
contact their telephone no.: (032) 512-5998