As a foreigner in a country, always put in mind that learning a foreign language such as the Cebuano language is fun. Make it a habit that learning something new (
skill, knowledge, idea
) is fun. It makes learning easier. And using the Cebuano language in actual conversations really helps a lot. In building your Cebuano vocabulary, here are some of the words, phrases and salutation/greetings that are commonly used in conversations and very useful to your everyday communication with Cebuanos or other Bisaya locals/citizens.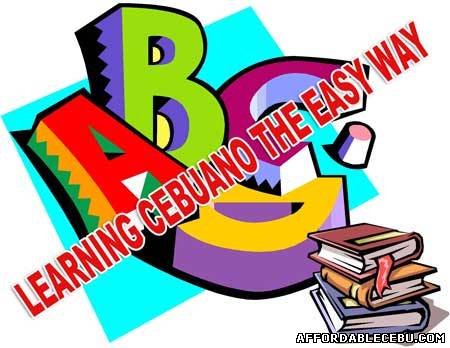 English to Bisaya/Cebuano Translation of Common Salutations/Greetings, Phrases in Cebu, Philippines
Don't be confused with the two words; Cebuano and Bisaya.
Bisaya
is more generic. It comprises languages such as Hiligaynon, Waray, Surigaonon,
Cebuano
, Kiniray-a, Boholano and other languages in Visayas and Mindanao.
Salutation/Response English to Cebuano/Bisaya Translation
English
to
Cebuano
Learning is fun.
=
Ang pagkat-on ay kalipay.
Learning
=
Pagkat-on
Fun
=
Kalipay
Good Morning!
=
Maayong Buntag!
Good Afternoon!
=
Maayong Hapon!
Good Evening!
=
Maayong Gabi-i!
How are you?
=
Kumusta ka?
I'm doing great!
=
Maayo man!
Thank you very much
=
Daghang salamat
Thank you!
=
Salamat
You're welcome
=
Walay sapayan
Yes
=
Oo
No
=
Dili
It's alright
=
Maayo ang tanan
I'm ready
=
Andam na 'ko
Let's go!
=
"Lakaw na 'ta" or "Tara"
I'm sorry
=
Pasaylo-a 'ko.
Come here
=
"Dali ra" or "Ali"
Help me.
=
Tabangi ko.
Goodbye.
=
Ari na 'ko/Adiyos.
I don't feel well.
=
Naglain akong lawas
I don't know.
=
Wala ko kahibalo.
What's your name?
=
Unsay imong ngalan?
My name is______
=
______ang akong ngalan
Who?
=
Kinsa?
What?
=
Unsa?
Where do you live?
=
Asa ka gapuyo?
What is this?
=
Unsa 'ni?
What are you doing?
=
Unsay gibuhat nimo?
When?
=
Kanus-a
Why?
=
Ngano?
I come from________.
=
Gikan 'ko sa_______
I'm going to________.
=
Muadto 'ko sa_______.
I arrive in_______.
=
Nakaabot 'ko sa______.
 
I am hungry.
=
Gigutom na 'ko.
I am thirsty.
=
Gi-uhaw ko.
I am full.
=
Busog ko.
That was a good meal.
=
Kalami sa pagkaon
 
Which bus is going to____?
=
Unsang bus ang moadto sa _____?
Where is the bus stop?
=
Asa man ang hulatan ug bus?
Where do I get a taxi?
=
Asa 'ko musakay ug taxi?
Where does this bus go?
=
Asa man muadto kining bus?
Where do I get off?
=
Asa 'ko manaog?
How much is the fare?
=
Tagpila ang plete?
How far is_____?
=
Unsa kalayo  _______?
Where is______?
=
Asa______?
Where are you going?
=
Asa ka paingon?
Near/far
=
Duol/layo
Fast/Slow
=
Kusog/hinay
Stop.
=
Hunong
Right/left
=
Tu-o/wala
 
Is there no discount?
=
Wala ni discount?
Do you have_____?
=
Naa bay_____?
What is this?
=
Unsa ni?
How much is this?
=
Tagpila ni?
I'd like to pay.
=
Mobayad na 'ko.
Expensive
=
Mahal
Cheap
=
Barato
Here I come
=
Nia na 'ko.



Other Useful Phrases


 
You should be happy.
=
Malipay gyud ka.
Are you happy?
=
Malipayon ba ka?
Are you sad?
=
Nagu-ol ba ka?
Are you afraid?
=
Nahadlok ba ka?
Don't be afraid?
=
Ayaw kahadlok
I love you.
=
Nahigugma ko nimo.
Do you love me?
=
Nahigugma ba ka nako?
Why are you so lonely?
=
Nganong magul-anon man ka?
Don't feel sad or bad.
=
Ayaw kagu-ol
I'm here.
=
Ni-a 'ko.
Easy
=
Sayon (sa-yon)
Language
=
Pinulongan (pi-nu-lo-ngan)
New
=
Bag-o
It's easy to learn a new language.
=
Sayon ang pagkat-on ug bag-ong pinulongan
If you want to learn and know more about Bisaya or Cebuano language or want to translate any phrases or words from English to Bisaya/Cebuano, just drop it in the comment below.
We'll try our best to translate them to Cebuano. Make this website as a resource tutorial for learning Cebuano/Bisaya language.