When transferring or sending money from country-to-country, online merchants or financial institutions usually requires the client to enter the SWIFT CODE of the local bank.
If you're sending money to Metrobank and the online merchant or financial institution requires you to enter the SWIFT CODE, you need to enter or give this official SWIFT CODE of Metrobank to them.
Swift code is also known as the
Bank Identifier Code
(
BIC
).
What's the official Swift Code or Bank Identification Code of Metrobank?
Metrobank's official swift code is
MBTCPHMM.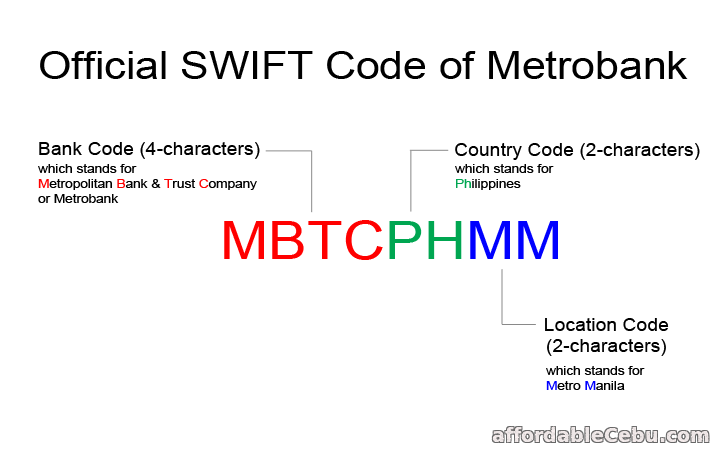 This code applies to all Metrobank branches. That means,
MBTCPHMM
is the swift code (or bank identification code) of all Metrobank branches all over the Philippines.
What does MBTCPHMM represents?
MBTC
- represents the 4-character bank code. MBTC stands for Metropolitan Bank & Trust Company (or Metrobank)
PH
 - represents the 2-character country code. It stands for Philippines.
MM
 - represents the 2-character location code. It stands for Metro Manila where the Head Office of Metrobank is located.
Is swift code and BIC the same?
Yes. They're both the same and used interchangeably. Swift code is also known as the Bank Identifier Code or
BIC
. It's the international bank code that identifies particular banks worldwide. It's an established international standard for institutions within the financial services industry.
About SWIFT Code
SWIFT (Society for Worldwide Interbank Financial Telecommunication) is an organization who issues swift codes to financial and non-financial institutions for money transfer. Swift codes are also used for other financial communications.
Can you tell us what type of transaction in which you need to enter Metrobank swift code?