---
Metrobank New Log-in Screen
One of the biggest banks in the Philippines, Metrobank revamped their MetrobankDirect website log-in screen into a new look. They officially started to change the log-in page design on June 24. MetrobankDirect is the name of the online/internet banking service of Metrobank. Take a look at the old and the new MetrobankDirect log-in page designs.



THE OLD METROBANKDIRECT LOG-IN PAGE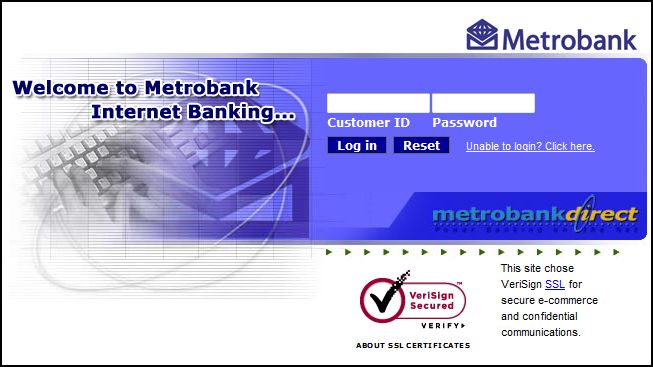 The old MetrobankDirect log-in page which was a little bit dull and boring in design.
BUT NOW....HERE COMES THE NEW & FRESH DESIGN OF METROBANKDIRECT LOG-IN PAGE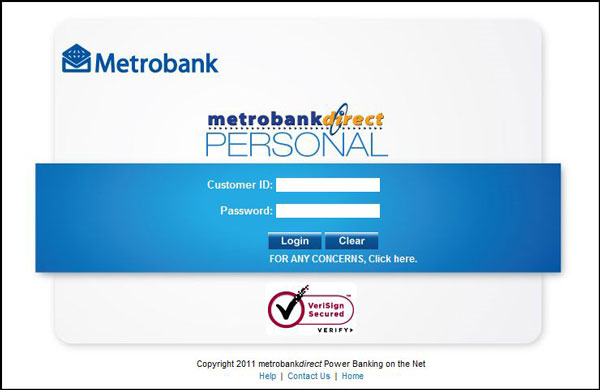 The new design is so cool and very pleasing to the eye.
The log-in page (URL address) of MetrobankDirect is https://personal.metrobankdirect.com/RetailInternetPortal/ .
So to all MetrobankDirect users, don't be surprise if you see a new look in MetrobankDirect log-in page. Metrobank has just made it more visually appealing to you. It's really nice to see this kind of log-in page.

WOW! So cool to log-in in MetrobankDirect. How about you? What can you say about this great-looking log-in page of MetrobankDirect.

Warning! When posting comments, strictly observe correct spelling. Avoid incomplete words such as TY (as Thank You), Pls as Please, gud as good, dpt as dapat, etc. You can comment in English or Tagalog. If you will not follow this simple instruction, your comment(s) will not be accepted or published.
Total comments: 2

0

Spam
1
Gloria E Ongchangco
(29 February 2012 7:46 AM)
Am an old customer now based in the U.S.A. Had access to my account on-line. I have not opened it for sometime and now I can't open it. What must I do to access it?

Thanks for your immediate reply.

0

Spam
Gloria, you must contact Metrobank at:
Telephone No. : (632) 8700-700

Fax. : (632) 817-6248

Customer Care (Monday - Friday): 898-8701, 898-8702

24/7 Contact Center Hotline: 8700-700.

Ask for reactivation if your account has been dormant (not been used or no transaction has been made for 2 years). Metrobank charges dormant accounts. They will get dormant charges directly from your account until your account reaches zero balance. If you think that you have sufficient balance in your account and want to reactivate your account, just contact Metrobank.