---
MLhuillier KPTN - Transaction Number Sample
When you send money to someone through MLhuillier, you are required to fill-out a Send-out form which also serves as a receipt. You can see this form or receipt in the screenshot below.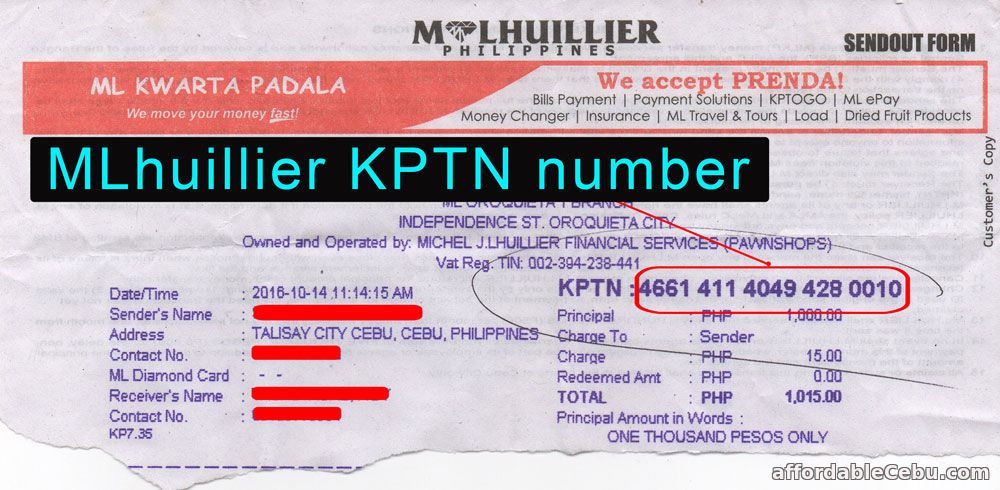 Filling out the form is so simple.

You just write your name, mobile phone number and the amount you want to send.

After that, a KPTN (Kwarta Padala Transaction Number) will be generated. Did you see it in the screenshot above?

MLhuillier KPTN has 18 digits as of this date.

The digits might be increased or combined with letters as the total number of transactions grows.

KPTN is very important for your receiver to receive the money. If the receiver cannot present a KPTN, MLhuillier doesn't allow him/her to receive the money.

So, if you are the receiver of the money, you should immediately take note of the KPTN number?

Do you have any problem with your MLhuillier KPTN (number)?
Warning! When posting comments, strictly observe correct spelling. Avoid incomplete words such as TY (as Thank You), Pls as Please, gud as good, dpt as dapat, etc. You can comment in English or Tagalog. If you will not follow this simple instruction, your comment(s) will not be accepted or published.
Total comments: 2

0

Spam
2
camille castro
(25 March 2017 9:02 PM)
i trying to track the money if allready pick up but your site said its wrong number how can i knowing it please let me know

0

Spam
1
Emerald Montillano
(12 January 2017 1:34 PM)
Hi Guys,
Mlhuillier is now open for partnership in money remittance for only 99K.
designed for your add-on income in your existing business
MLhuillier Express (MLX) is the newest product that we are offering to those companies with existing stores like pawnshop, pharmacy, internet café, cooperative and other type of businesses to which MLX can be an additional service they can offer to their respective clientele.
Please email me if you are interested emerald.montillano@mlhuillier.com thank you.