---
Super Ferry and Negros Navigation Latest Promo for December 2011 Trip
Super Ferry and Negros Navigation are joining forces in offering a very affordable travel rate for September 17 until December 15, 2011 travel dates.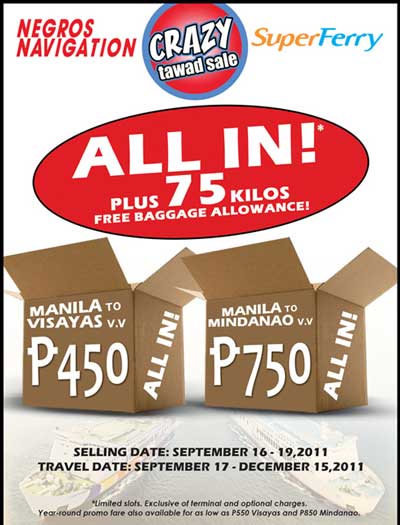 From Manila to Visayas and vice versa, they offer 450 pesos ticket price all in plus 75kg free baggage allowance. While the Manila to Mindanao and vice versa destination, they offer 750 pesos ticket price all in plus 75kg free baggage allowance.

Selling date is on September 16-19, 2011 and the travel date will be on September 17 to December 15, 2011.

The all-in promo (which has 75kg free baggage allowance) has limited slots. It's exclusive of terminal and optional charges.

Year-round promo is also available for as low as 550 pesos for Visayas destination and 850 pesos for Mindanao destination.

Note:

Promo is available for both with and without meals ticket.
Tickets are non-transferable and non-refundable but can be revalidated with applicable surcharges plus fare difference.
Promo is available for open voyages only.
Other discounts such as Student, Disabled and Senior Citizen are not available.

For more details, you can call Negros Navigation at (02) 554-8777 and Super Ferry at (02) 528-7000.

Warning! When posting comments, strictly observe correct spelling. Avoid incomplete words such as TY (as Thank You), Pls as Please, gud as good, dpt as dapat, etc. You can comment in English or Tagalog. If you will not follow this simple instruction, your comment(s) will not be accepted or published.