Description
This service is available to all senior citizens of Cebu City only. the objective is to provide the senior citizen with a nationally uniform identification card to avail the legally mandated privileges. The end result of the service is to have an actual list of registered senior citizens of Cebu City. This service is mandated under R.A. 9257 of the "Expanded Senior citizen Act of 2003.
(This is applicable only in Cebu, Philippines)
.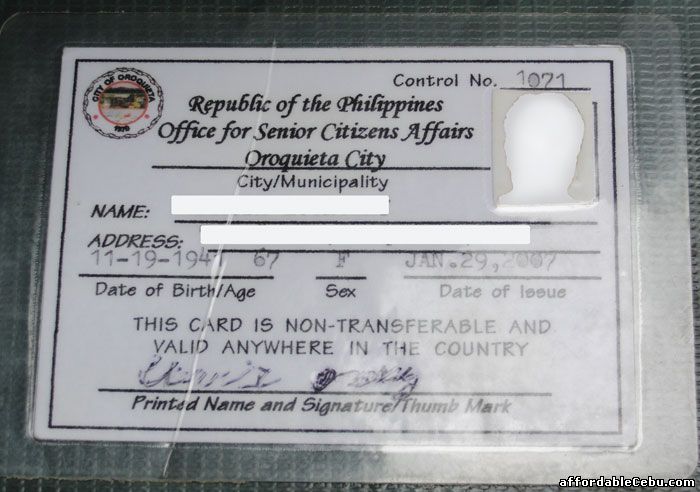 Senior Citizen ID in Philippines - photo
Client/s
All Senior Citizens of Cebu City
Contact Person/s
Sarah Ponteras, Ecisila Mansueto, Noel Cabezas, Richard Figues
Contact/Telephone number: 256-3148 / 412-2834
Location
Office for Senior Citizens' Affairs (OSCA)
Temporarily located at 2/F, Rm. 2-1,
Legislative Building, City Hall, Cebu City
Availability
Monday to Friday; 8:00 AM - 5:00 PM
Duration of the Service
2 weeks, 4 minutes & 40 seconds
Requirement/s
2 pcs. 1x1 pcitre
Photocopy of any proof of birth (i.e. birth certificate, baptismal certificate, driver's license, passport, postal I.D., voter's certification, etc.)
Fee/s
None for New Application
Php 100 - for replacement / lost ID
Procedures on How to Get Senior Citizen's Identification Card (ID) in Cebu
1. Get the the application form for ID. The OSCA personnel provides an application form to the applicant and advises him/her to attach the needed requirements.
2. Fill out the application form and attach all the requirements, and submit it. The OSCA personnel verifies and reviews the application form and the attached requirements.
3. The senior citizen waits while the OSCA ID is prepared. The OSCA personnel verifies in the computer if the applicant / senior citizen has been issued with a senior citizens identification (ID) card. The OSCA personnel keeps the application form and the attachment in the file. He/she prepares the ID and typed all necessary information in the ID card. He/she gives the duly prepared ID to the applicant senior citizen for his/her signature.
4. Sign the ID and give it back to OSCA personnel for OSCA Head and the City Mayor's signatures. The OSCA personnel advises the applicant senior citizen to come back after two (2) weeks to get the duly issued ID. OSCA Head signs the identification card. He/she forwards the ID to the office of the City Mayor for signature. The City Mayor signs the identification card and returns it back to the OSCA.
5. The senior citizen or his/her duly authorized representative signs the logbook of claimed ID's. The OSCA personnel releases the identification card and asks the senior citizen or his representative to sign the logbook.
​​​​​​​
Source: Cebu City Citizen's Guidebook
This information appeared first on the 2009 Version of the Cebu City Citizen's Guidebook published by the Cebu City Government through the efforts of the Mayor's Management Team.