---
How to Type Letter Enye - ñ with Android Phone?
Some of you might be confused on how to type letter enye (ñ) with your android phone. Yes, you cannot see the letter enye (ñ) on your android phone's keyboard screen. It's the same with a physical computer keyboard. You cannot see it, right? No letter enye button. But a very simple trick can create that letter enye you need. Here's how...



In your keyboard screen, long press the letter n. A pop-up box will appear containing the different variations of letter n which also contains the letter enye (ñ) - enye.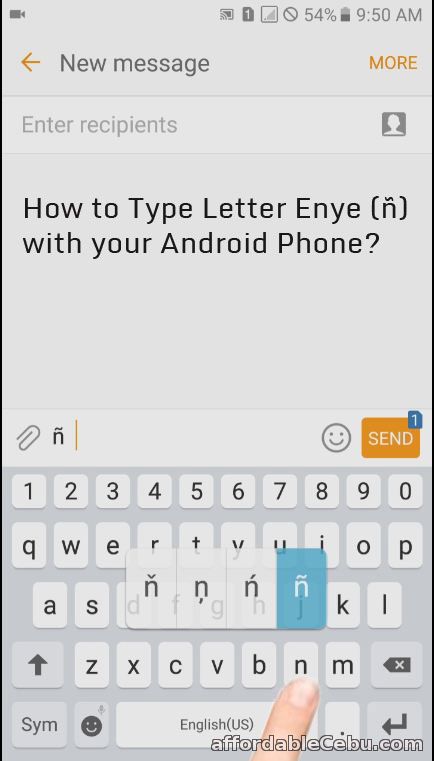 Creating small letter enye in Android Phone
If you want to create a capital letter enye, the same method applies. Don't forget to press Shift button to convert the small letters into CAPITAL letters. Long-press the letter N, and a capital letter Ñ will appear.
Are you having any problem creating letter enye with your phone?
Warning! When posting comments, strictly observe correct spelling. Avoid incomplete words such as TY (as Thank You), Pls as Please, gud as good, dpt as dapat, etc. You can comment in English or Tagalog. If you will not follow this simple instruction, your comment(s) will not be accepted or published.