---
New 1 Peso Coin with Picture
The Bangko Sentral ng Pilipinas (BSP) will issue this month a new one (1) peso coin. The issuance of this newly designed one peso coin commemorates the 150th birth anniversary of the Philippines' National Hero Dr. Jose Rizal which was celebrated last June 19, 2011. Rizal died on December 30, 1896 in Bagumbayan (now Luneta) which sparked the Philippine Revolution against the Spaniards.

What will be the design of the new one (1) peso coin?

The face of the coin has the design of the portrait of Dr. Jose Rizal and the markings, "150 years," "1861-2011", and "Republika ng Pilipinas". Designed on the reverse side are the new BSP seal, "1-piso" and "2011."

The new 1 peso coin is round, grayish and nickel-plated steel coin. It has the same size (24-millimeters in diameter) and weight (5.35 grams) as the old one (1) peso coin presently in circulation.

The Office of the President of the Philippines and the Monetary Board of the Bangko Sentral ng Pilipinas (BSP) have both approved the issuance of the new one (1) peso coin.

Take a look at the picture of the new one (1) peso coin of the Philippines:


New Philippines' One (1) Peso Coin Photo
Here are some photos of the real new one peso coin in the Philippines: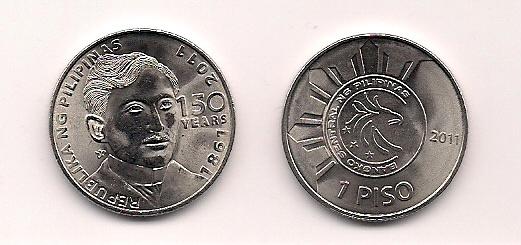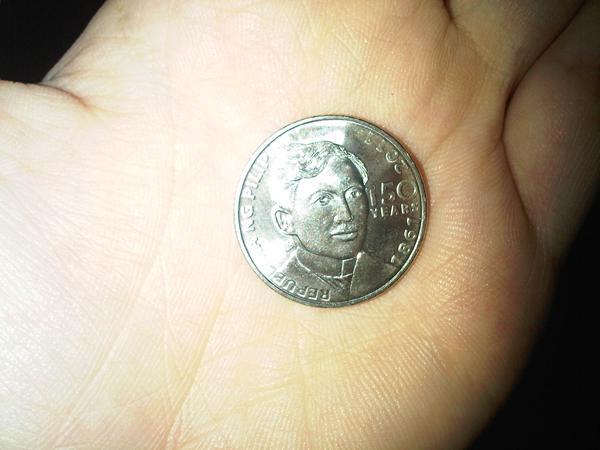 What can you say of our new 1 peso coin?
Warning! When posting comments, strictly observe correct spelling. Avoid incomplete words such as TY (as Thank You), Pls as Please, gud as good, dpt as dapat, etc. You can comment in English or Tagalog. If you will not follow this simple instruction, your comment(s) will not be accepted or published.