---
Top 20 Individual Taxpayers in the Philippines Year 2010
Here's the latest release of the list of the top 20 individual taxpayers in the Philippines in year 2010 based on the data of Bureau of Internal Revenue (BIR) which was published on April 2012. These people paid the highest amount of tax in the Philippine government. Vicente Tan Lao, a businessman, topped the list and paid P75.34 million to the BIR. He paid almost P16 million greater than the 2009's top individual taxpayer, Elaine Bautista Gardiola.



Among the top list is a popular film director, Carlos J. Caparas who ranked as the 3rd highest taxpayer and paid P65.67 million income tax to the BIR. The queen of media, Kris Aquino ranked 17th paying P32.31 million tax.



Rank
Name
Regular Income Tax Paid to the Philippines
(in million Pesos)
1
Vicente Tan Lao
75.34
2
Rolando Bonifacio Hortaleza
69.66
3
Carlo Jose Caparas
65.67
4
Martin L. Oniel
60.46
5
Vivian Que Azcona
52.03
6
Gregory Deane Reichow
48.08
7
Napoleon Logarta Nazareno
44.63
8
Orlando Banzon Vea
40.31
9
Daniel Edmund Chalmers
39.78
10
Ronaldo Romero Soliman
39.76
11
Oscar Moreno Lopez
39.01
12
Vicente Rafael Ayllon
38.34
13
Ray Celis Espinosa
36.50
14
Gari Manigoue Tiongco
33.38
15
Victorico Paredes Vargas
32.84
16
Ramon See Ang
32.37
17
Kris Aquino Yap
32.31
18
Emmanuel Ordoveza Bautista
29.47
19
Miguelin M. Arquiza
26.92
20
Becker John Anthony
26.58
To have a better comparative view, I created a bar graph below to show how far they are distributed with each other in their income tax paid.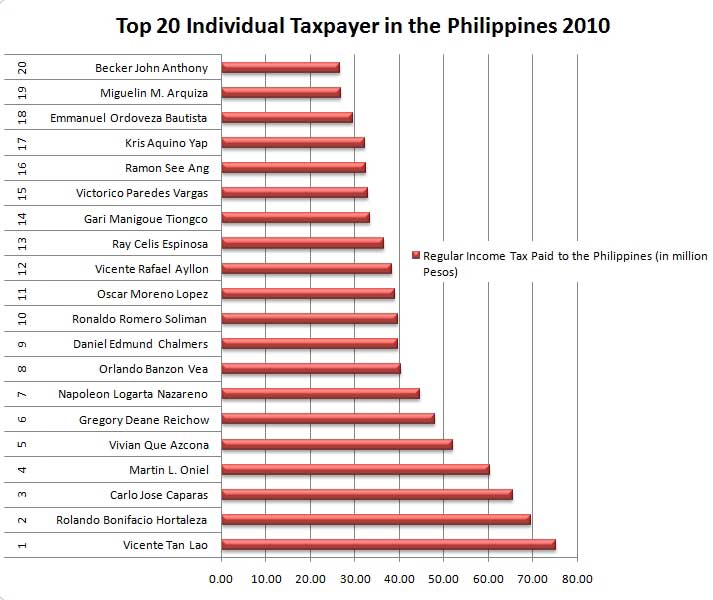 What I noticed is that the
Forbes-listed Filipino Billionaires
(
Henry Sy
, Lucio Tan, Andrew Tan, Enrique Razon Jr., Eduardo Cojuangco and Roberto Ongpin) are never found or included in the Top 20 Individual Taxpayers in the Philippines. Did you notice it?
Warning! When posting comments, strictly observe correct spelling. Avoid incomplete words such as TY (as Thank You), Pls as Please, gud as good, dpt as dapat, etc. You can comment in English or Tagalog. If you will not follow this simple instruction, your comment(s) will not be accepted or published.
Total comments: 3

1

Spam
3
robert mcoscar
(12 June 2012 5:08 PM)
In my own simple mind understanding the richer you are the more income you gain and therefore, more taxes payable. How is it so that they boast of being the richest in the country and yet do not pay as high? Well, of course this is just a rhetorical question because we all know the answer already. Even our hero Pacquiao learn how to evade paying taxes as he grow richer.

0

Spam
2
Tax Evader
(17 May 2012 4:26 PM)
Tama ka Asero, parang tax evaders sila. Ganun ka "wise" ang mga richest men in the Philippines! Paano kaya kung magiging isa ka sa mga pinakamayaman sa Pilipinas, magbabayad ka kaya honestly ng tax.

1

Spam
1
Asero
(17 May 2012 2:01 PM)
Mas lalo kc pnpayaman ang srili nla,hnd ngbyad ng tmang tax..especially those hu r listed in forbes.