---
Top 40 Earning Companies in the Philippines 2016
Do you know which is the most profitable company in the Philippines?

This is a list of top earning companies in the Philippines based on its reported annual net income (after tax) in 2015. These companies are publicly-listed in the Philippine Stock Exchange (PSE).

Henry Sy-led SM Investments Corporation got the highest net income compared to other Philippine companies.

Take note: Annual net income for 2016 is not posted yet. Official publication of the annual earnings is scheduled every December. So 2016 Annual Net Income will be posted this December 2016.



List of Top Earning Companies in the Philippines 2015
| | Name of Company | 2015 Annual Net Income After Tax (Php) |
| --- | --- | --- |
| 1 | SM Investments Corporation | 40,332,887,000 |
| 2 | Ayala Corporation | 38,295,054,000 |
| 3 | JG Summit Holdings, Inc. | 32,675,402,690 |
| 4 | San Miguel Corporation | 28,993,000,000 |
| 5 | SM Prime Holdings, Inc. | 28,892,593,000 |
| 6 | BDO Unibank, Inc. | 25,055,000,000 |
| 7 | Top Frontier Investment Holdings, Inc. | 24,677,000,000 |
| 8 | Aboitiz Equity Ventures, Inc. | 23,157,478,000 |
| 9 | Philippine Long Distance Telephone Company (PLDT) | 22,075,000,000 |
| 10 | Alliance Global Group, Inc. | 21,686,300,894 |
| 11 | GT Capital Holdings, Inc. | 20,958,796,552 |
| 12 | Ayala Land, Inc. | 20,896,887,000 |
| 13 | Metropolitan Bank & Trust Company (Metrobank) | 20,643,000,000 |
| 14 | Manila Electric Company | 19,189,000,000 |
| 15 | Aboitiz Power Corporation | 18,952,651,000 |
| 16 | Bank of the Philippine Islands (BPI) | 18,375,000,000 |
| 17 | DMCI Holdings, Inc. | 16,922,816,000 |
| 18 | Globe Telecom, Inc. | 16,484,450,000 |
| 19 | Lopez Holdings Corporation | 16,126,000,000 |
| 20 | Metro Pacific Investments Corporation | 15,074,000,000 |
| 21 | Universal Robina Corporation | 12,504,921,588 |
| 22 | First Philippine Holdings Corporation | 12,177,000,000 |
| 23 | First Gen Corporation | 11,527,784,000 |
| 24 | Megaworld Corporation | 10,574,801,843 |
| 25 | LT Group, Inc. | 9,496,654,000 |
| 26 | Semirara Mining and Power Corporation | 8,486,909,081 |
| 27 | Holcim Philippines, Inc. | 8,149,568,000 |
| 28 | Energy Development Corporation | 7,859,371,987 |
| 29 | Security Bank Corporation | 7,755,391,000 |
| 30 | Vista Land & Lifescapes, Inc. | 7,187,002,956 |
| 31 | Filinvest Development Corporation | 7,030,317,000 |
| 32 | Cosco Capital, Inc. | 6,987,242,032 |
| 33 | Emperador Inc. | 6,960,056,286 |
| 34 | Philippine National Bank (PNB) | 6,311,595,000 |
| 35 | Petron Corporation | 6,270,000,000 |
| 36 | Manila Water Company, Inc. | 6,134,040,000 |
| 37 | Union Bank of the Philippines, Inc. | 6,016,980,000 |
| 38 | PAL Holdings, Inc. | 5,870,338,000 |
| 39 | Robinsons Land Corporation | 5,701,032,828 |
| 40 | China Banking Corporation | 5,602,576,000 |
Figures are based on published financial statements of each companies.
In graph...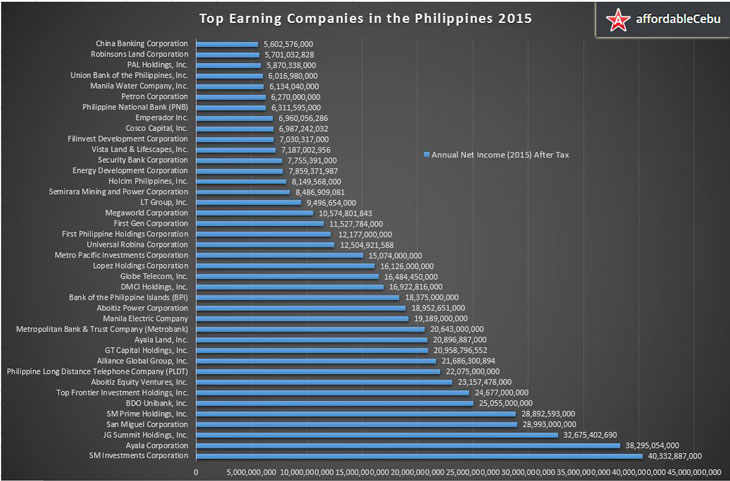 Investors love profitable companies. These are the top profitable companies in the Philippines.

Conservative and wise investors use Dividend Payout Ratio as one of the key financial ratios for evaluating a company. The net income is needed to compute this ratio.
Warning! When posting comments, strictly observe correct spelling. Avoid incomplete words such as TY (as Thank You), Pls as Please, gud as good, dpt as dapat, etc. You can comment in English or Tagalog. If you will not follow this simple instruction, your comment(s) will not be accepted or published.