---
Labor Relations Officer
Ad Type: Looking For | Location: Outside Cebu
| Views: | Comments: | 15 August 2014
Formulate, study, and recommend for approval policies, programs, systems, and procedures designed for employee and labor relations.

Formulate strategic and responsive labor relations programs that address various needs of employees at all sites that meets the legal requirements of law.

Coordinate with both internal and external counsel and give advise on legal issues and consequences confronting the company on concerns with employees, actions, policies, etc. and suggest actions that will minimize the impact of adverse consequences.

Act as an adviser to managers, supervisors, and other company officials on possible actions to take to avoid or minimize legal problems.

Assist in the resolution of specific disciplinary or grievances cases, including acting as arbiter between employee and the company.

Promote and maintain good employee-employer relationship.

Study and interpret legislations that could affect company operations.

Advise the company on the proper procedures to carry out specific legislation or regulation related to employment and salary matters.

Conduct research and consult the Country Head for HR and internal counsel first before retained lawyers into specific industrial relations issues confronting the company.

Come up with relevant training needed to improve labor relations and positive employee employer relations of the site.

Ensure AWOL, TERMINATION and NON-COMPETE clause documents are tracked and properly sent and duly received by the respondents. It is a requirement that a weekly report on these numbers are sent to all the accounts and departments.

Work closely with admin and facilities to ensure that site security and safety is being observed by reporting diligently the list of employees who have been terminated, declared AWOL to the said department.

Coordinate all labor relations requirements with the department managers, directors, business leaders, the site HRs for assigned Brady sites, our company lawyers and external counsel to ensure timely and effective replies to their concerns

Lead kick-off meetings with team leaders and managers, among others to discuss the Code of Ethics, the Team Members Guidebook, and other policies and procedures of the center.

Build ongoing relationships with all department heads to understand business requirements and needs in order to stay abreast of future labor relations needs.

Review all policies and procedures on an as need basis to ensure that it is what is needed to support operations and the center.

Review all policies and procedures to ensure we are up to speed with current laws and jurisprudence.

Develop and execute creative policies that will support the current needs of the business.

Build a comprehensive database of all templates that can be used by supervisors and managers when writing Notice to Explains and Disciplinary Action Notices.

Build a comprehensive database of Notice to Explains and Disciplinary Action Notices, including minutes of the meetings of administrative hearings.

Maintain a tracker of all Notice to Explains and Disciplinary Action Notices served.

Research a wide variety of resources to stay current on business & industry trends.

Constantly follow up and liaise with corporate lawyers and external counsel to ensure a continuous process.

Maintain accurate data and information of all labor cases using the Brady Googlesite.

Partner with the Country Head of HR to identify opportunities for improvement in best practices, processes, tools & resources, etc.

Maintain and update accurate computerized labor relations records.

Conduct investigations and administrative hearings as needed.

Endeavor to maximize efficiency in your area of responsibility

Endeavor to match and exceed your teammates' work output everyday through more efficient and more accurate handling of disciplinary cases.

Assist in all Employee Relations, Labor Relations, Compensation and Benefits, and Recruitment efforts of the company as part of your rotation to various HR functions to further improve your HR competency.
HOW TO APPLY
Create/Submit your resume online:
http://careers.bradycorp.com.ph/
Visit our Recruitment Hub:
Ground Floor, Worldwide Corporate Center, Shaw Boulevard, Mandaluyong City
LIKE US on Facebook to get updates on our Job Vacancies!
Official Brady Philippines
FOLLOW US on Twitter too!
@brady_careers
APPLY NOW!!!
Pictures
---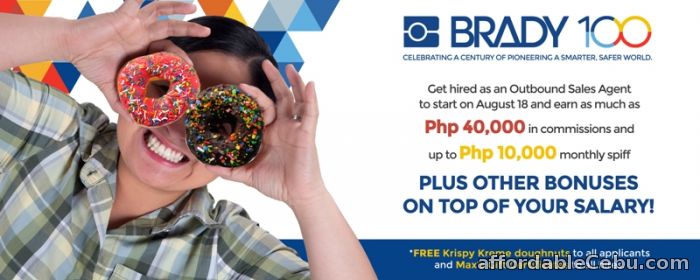 Share this Ad