---
Lumiscope BP Aneroid Sphygmomanometer with Stethoscope
Ad Type: For Sale | Location: Outside Cebu
Views: | Comments: | 09 February 2017
E N T R O P Y M A R K E T I N G
Your Affordable High Quality Medical Supplies Provider
Lumiscope BP Aneroid Sphygmomanometer with Stethoscope
brandnew
Description:
Professional Combo Kit:
Aneroid sphygmomanometer with matching nylon color cuff and Sprague Rappaport-style stethoscope. Complete with matching color oversize zippered carry case.
Clinically Proven Accuracy
Manual Inflate Aneroid Unit
Sprague Rappaport Stethoscope
Nylon Professional Quality Cuff
Includes Over sized Storage Case
Fits Arms 9" to 15"
Lumiscope kit includes:
Aneroid Sphygmomanoter with a nylon cuff
Professional Sprague Rappaport Style stethoscope with 22" tubing
Accessory pouch that contains 2 diaphragms, 2 pair of ear tips and 3 bells.
Matching nylon zippered case.

Kindly visit and like us on Facebook ENTROPY MARKETING
Address :
ENTROPY MARKETING
10 Nalugod St. Sto. Nino Marikina City
for immediate reply to your inquiries
& other informations, call:
PLDT: (02) 475-1039 / 701-9927 / (02) 544-8492
SMART : (0930) 406-1066 / (0949) 7085368
GLOBE: (0926) 279-5779 / 940-9088
SUN: (0933) 57-97-507
We deliver anywhere in the Philippines
Buyer pays Shipping & Handling fees
Pictures
---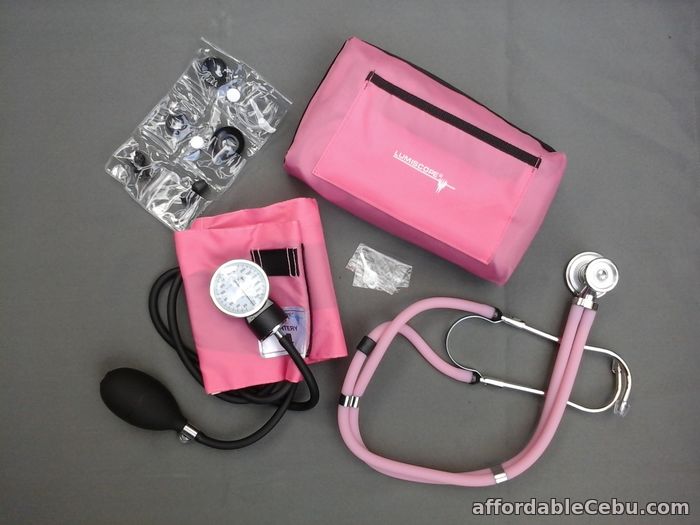 Share this Ad