Getting your old Metrobank ATM card replaced is very important. Why?
Because the banking companies like Metrobank evolve according to the need of their clients or because of the banking problems they encounter.
When Metrobank issues a new version of ATM card, the old ATM card will not be accepted anymore in any ATM machines after the deadline date.
One other reason why you might replace your Metrobank ATM card is because it might be damaged or broken.
It just take 2 simple steps and about 20 minutes to replace your old Metrobank ATM card: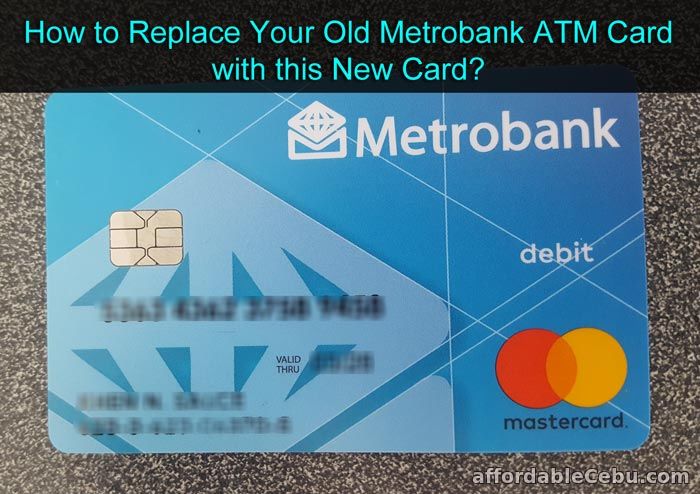 Step 1
One requirement is to submit a valid id. So, you must prepare a valid id or a company-issued id. It could be any of the following:
Driver's License
Postal ID
Voter's ID
Unified Multi-Purpose ID or UMID
Social Security System ID (SSS ID)
Government Service Insurance System (GSIS ID)
Pag-ibig ID or the Home Development Mutual Fund (HMDF) ID
TIN ID
Professional Regulation Commission (PRC ID)
National Bureau of Investigation or NBI Clearance
Police Clearance
Baranggay Clearance/Certificate
PhilHealth ID
Senior Citizen's ID
Alien Certificate of Registration or ACR ID (for foreigners)
PRA Special Resident Retireee Visa (SRRV) ID
Consular ID
Permit to Carry Firearms
Passport
Company/Office ID
Student's ID or School ID
OFW ID
Seaman's Book
Armed Forces of the Philippines of AFP ID
Philippines Overseas Employment Association or POEA ID
Certification from the National Council for the Welfare of Disabled Persons (NCWDP)
Department of Social Welfare and Development or DSWD ID
Philippine National Police or PNP ID
These valid id's are in compliance with the Bangko Sentral ng Pilipinas (BSP) circular 564.
Step 2
Go to any Metrobank branch. Go to New Accounts or Customer Service section of the bank and request "ATM card replacement".
A Metrobank employee will assist you. Present your valid id to her.
She will process the card replacement. You're going to write your name and signature at some point during this process.
It may take around 20 minutes for the processing.
Final procedure is to activate your new Metrobank ATM card .
The assigned branch manager will be the one who will activate the card.
Right after, the new ATM card will be issued to you including your new ATM PIN.
No payment will be requested. It's free to replace your old Metrobank ATM card.