Before going to a Western Union agent (in the Philippines), it's very important to know what to do and what to bring upon receiving the money in Western Union. Because without bringing the needed requirement, you cannot receive the money or the Western Union customer representative will deny your request. So, how can you receive money successfully in Western Union (Philippines)?
Step 1
The first important thing to do is to keep the copy of the
Money Transfer Control Number
(
MTCN
) that the sender sent to you and bring your
valid ID
. This is a photo-bearing ID. The following ID's are accepted:
Driver's License
Passport (including foreign passport)
PRC ID
NBI Clearance
Postal ID
Voter's ID
GSIS ID
Employment ID (Government & Private institutions)
OWWA ID
OFW ID
Seaman's Book
SSS Card
Student ID (Students below 18)
IBP ID
Unified Multipurpose ID (UMID)
Homowner/Village Associations ID
PhilHealth ID
Senior Citizen ID
Barangay Clearance with your photo
Other ID's issued by the government
Step 2
Go to a Western Union agent office (examples are USSC Store, PETNET, etc.). If you're a first-time customer and it's your first time to receive money in Western Union, fill-out the Western Union Customer Form. There are two types of Customer Form. One is International form and other one is Domestic form. International form is used when the Sender (money sender) is from outside the Philippines. While Domestic form is used when the Sender is within the Philippines.
---
Western Union Receive Money Form (International)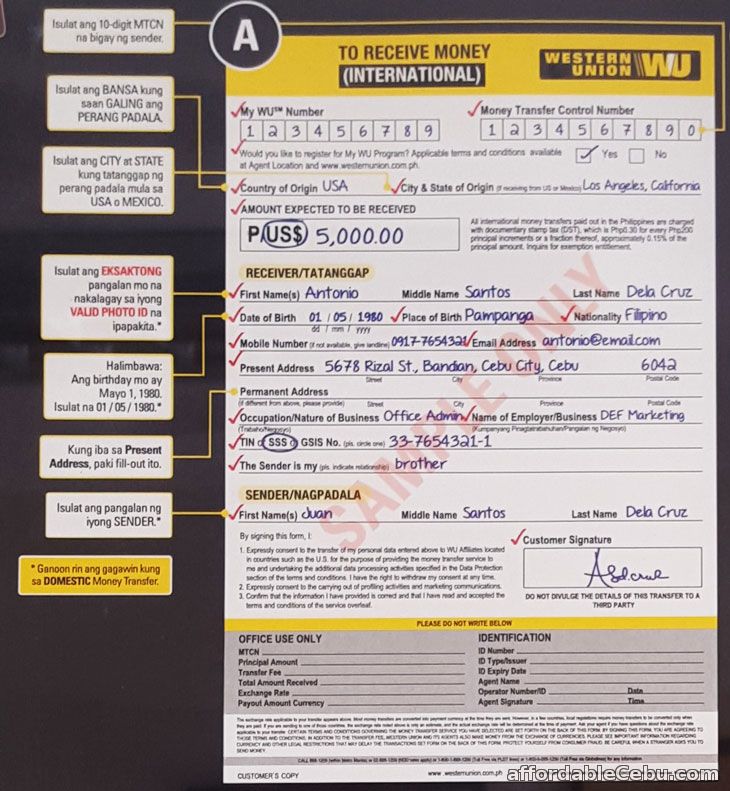 ---
Western Union Receive Money Form (Domestic)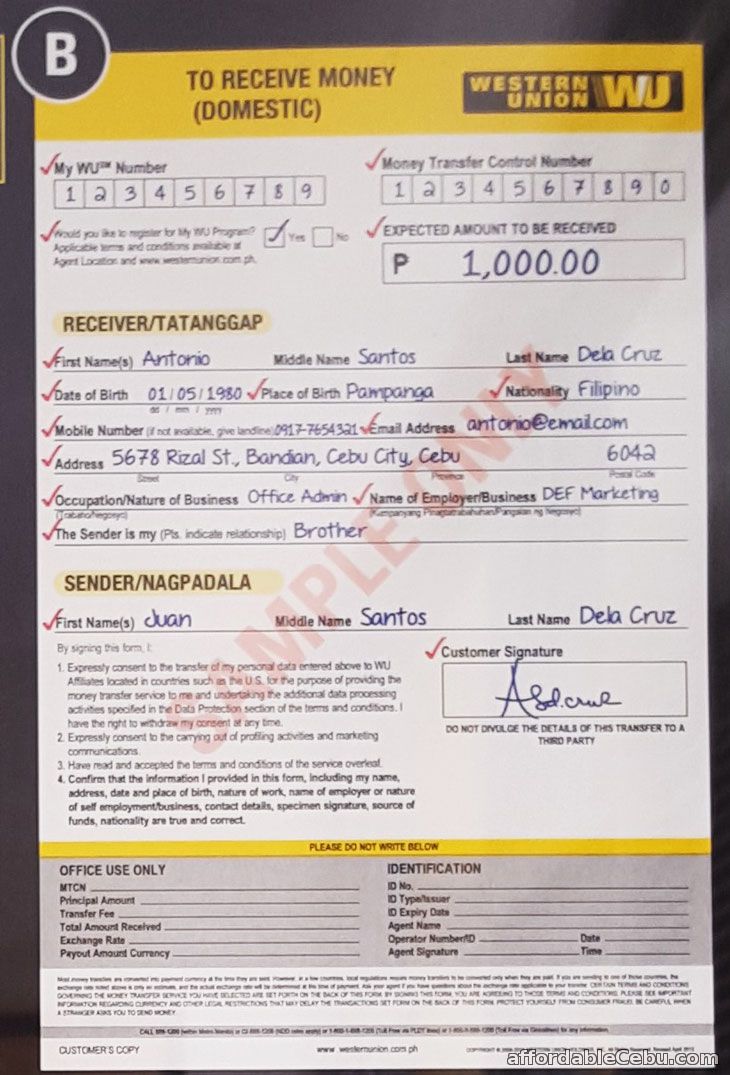 ---
Some important information to fill-out are:
MTCN
Name of Sender
Country of Origin - country where the money came from
Amount of Money sent (in Philippine pesos or US Dollars)
Step 3
After filling-out the Customer form, the Customer Representative will process your request. Within a few minutes, he will give you a receipt to sign in. Make sure you review carefully the details of the transaction especially the amount of money being sent. Then, after verification, the money will be given to you.
Reminders:
If you will receive money that come from outside the Philippines, you will be charged a certain type of tax (called Documentary Stamp Tax). The amount of the said tax is equivalent to Php 0.30 in every Php200 principal being sent. Or it's equivalent to 0.15% fee of the principal. For example, if you're gonna receive a Php 10,000, you will be charged Php 15. Why? Because 0.15% of Php 10,000 is Php 15.