You might receive a text message from someone who claims that there's money being sent in Palawan Pawnshop for you.
Or someone sent you money in Palawan pawnshop but you do not know the name of the sender. In Tagalog, "
Paano i-claim ang pero kung hindi alam ang sender?
"
That's why you can't claim the money.
But can you really claim the money if you don't know the sender?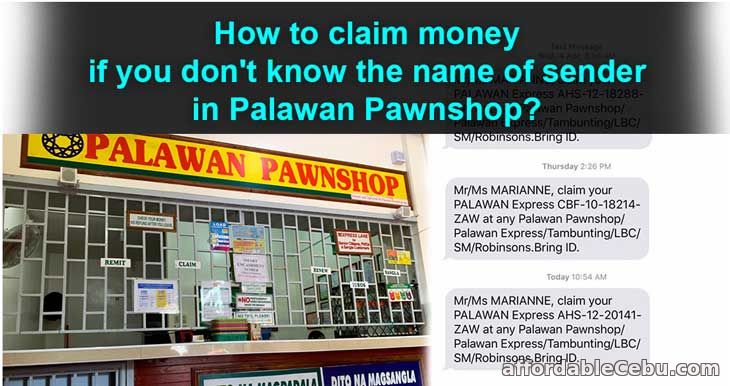 Answer
You cannot claim the money in Palawan Pawnshop if you don't know the sender's name.
Even if you have the transaction code, still you cannot claim the money.
You might ask, "So, what should I do in order to claim the money?"
You should go to Palawan Pawnshop branch, bring your government
valid id's
, and ask the teller/cashier that you can to claim the money and tell her/him that you don't know the name of sender.
If you're lucky, the cashier can trace the transaction using the transaction code that you will provide.
That's why the transaction code is very important. Bring it with you.
If you have the photo screenshot of the TRANSACTION RECEIVE or SEND MONEY FORM from the receiver, you should bring it with you. Or bring your phone.
And also the best thing to do is to call or contact the SENDER and ask his/her name. You can text, chat or the best is to call the sender and ask his/her name.
BEWARE!
Text scams are proliferating everywhere. You should be careful when you receive a text message that you have money being sent to you in Palawan Pawnshop.
If you didn't plan or done any transaction in Palawan or if someone intends to send you money thru text message without your knowledge, most probably this is a scam.
So, be careful!
Do you still have any problem with claiming your money in Palawan Pawnshop? Tell us in the comment below.