True to its slogan "
The quickest and cheapest way of sending money
", Palawan Pawnshop thru its Express Pera Padala service is really providing that great service which is reflected to its growing loyal customers everyday. If you want to send money to someone anywhere in the Philippines thru Palawan Pawnshop, here's a simple guide in sending money.
1. Before going to any Palawan Pawnshop branch or Palawan Express Pera Padala outlet, you must prepare the amount of money you're going to send and the receiver's personal details such as the receiver's name and her/his telephone or mobile phone number.
2. Go to any Palawan Pawnshop branch and fill-out the Send Money Form. The form may look like this: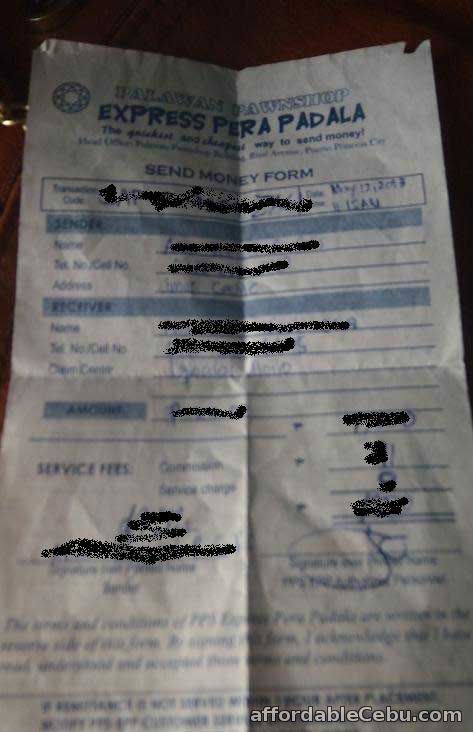 Palawan Pawnshop Send Money Form
The following information you're going to fill-out are:
Sender's Name (your name as a sender)
Sender's Mobile Phone Number
Receiver's Name
Receiver's Mobile Phone Number
3. Give the accomplished Send Money Form to a Palawan Pawnshop branch associate (employee).
4. Wait for a a few seconds. The branch associate will process your transaction. Pay the amount to be sent and the service charge.
5. Sign and receive your copy of the computer-generated Send Money Form.
You will receive a text message notifying you that the remittance is ready to be claimed. Don't forget to send the Transaction Code to your receiver thru text messaging or chat. The Transaction Code will be required by the Palawan Pawnshop branch in order for the receiver to successfully receive the money you've sent.