In the Philippines, you can burn or record multiple CD or DVD discs at the same by using a DVD duplicator machine. A DVD duplicator machine can burn both CD's and DVD's. You can burn any data, music, videos, or other files on the disc.
How does a CD/DVD duplicator machine work?
First, you should have a master copy or an original copy of the CD/DVD you want to burn. Then insert the master copy to the master cd/dvd writer and reader of the duplicator machine. And insert the blank cd/dvd's to the other dvd writers. The duplicator machine will then read and process the file content of the master dvd copy and burn that file contents to the blank dvd's. Wait for few minutes (depending on the size of the data). There are dvd duplicators that can burn up to 11 copies of dvd's at the same time. This is 1:11 type of dvd duplicator. There also 1:7 dvd duplicator machines that can copy 7 dvd's simultaneously.
Pictures of CD/DVD Duplicator Machine
Here some samples of CD/DVD Duplicator Machines: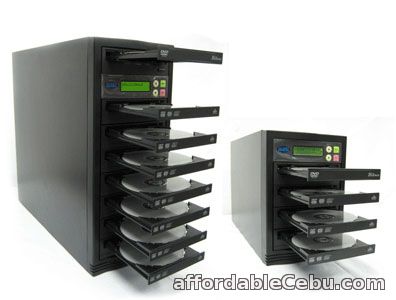 Where can you buy a high quality and affordable CD/DVD Duplicator machine in the Philippines?
You can search some high quality and cheaper DVD duplicator machines and DVD writers in
Lazada.com
:
Price of CD/DVD Duplicator in Philippines
The price of 1:11 DVD duplicator can run from Php 17,000 to Php 30,000 depending on the brand.
Tips/Suggestions
To achieve the best quality or recording/burning, set the copying/burning speed to slow (you may set it to 4x speed). Burning dvd's at slow speed can increase the quality of videos, music or data you burn. Burning at high speed can cause videos to run like a pirated dvd's/cd's (unusual pauses or stop and start moment). In other words, data on that dvd can be hard to read by dvd players.