Are you searching a way or or a method on
how to text to a cellphone even without a load
-
free text to sun cellular, globe, smart, touch mobile cellphones
?  You've come to the right place. Here, I will show you how you can
text somebody or anybody's cellphone with no load
-
free unlimited text to a cellphone without paying
. This is not a hacking tutorial, you know. This is 100% legal. You should know this!
I know you want to save credits or load balance in your cellphone. With my little strategy I'll reveal to you, you can save lots of load or credit balance in your cellphone.
Now, listen...
1.
There are certain requirements that you should have such as:
Computer with internet connection.
You should download Chikka Text Messenger and install it in your computer. Chikka Text Messenger is freely distributed. Don't worry about copyrights, it's a freeware.
2.
After complete installation of Chikka Text Messenger, you should have an account or create an account (register) for Chikka Text Messenger.
Chikka Text Messenger Picture Interface When You are not Logged-in.
3.
After registering or creating an account, you can now log-in to Chikka Text Messenger Software. You can now send free unlimited texts messages ( I mean, sending text messages without load or paying) to anyone especially to your love ones. Take note: the number format used by Chikka is 639xxxxxxxxx and not the 09xxxxxxxxx.
You might say to me, "Hey, you said that I can
text free UNLIMITED text messages
, but why can't I text anymore after 3 messages sent?" Now, here's a little secret I'll whisper to you, "Chikka limits 3 messages only. You can continue to send text messages by
DELETING the profile
whom you want to sent a text message (right click on the profile/cell number and choose to click Delete Buddy)". After deleting the profile/cell number, enter the same cell number again you want to text or send messages. You can now be able to text again successfully. Do this procedure after every 3 messages sending.
---
Chikka has now disabled the old software above. You cannot use it anymore. But there's a good news. You can still text for free in Chikka's website - http://im.chikka.com.
You mus sign-up on their website in order to use it. But if you have an old account with Chikka, you can still use your old Chikka ID or cellphone number and your old password.
Log-in page of Chikka website:
When you logged-in, you will be redirected to Chikka's Text Messenger Interface: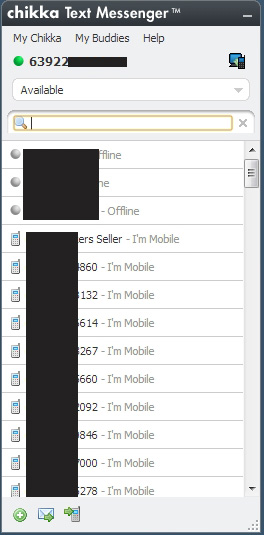 You are given free text credits in every network you have send messages to:
These text credits will return bank to default if you renew your ip address or use another computer with different ip address.
In order to send text message, go to My Buddies > Send Message:
Be sure not to spam someone or send multiple duplicate or nonsense messages. Please use Chikka in a good way.

You should not thank me for this, you should thank Chikka because they provide you this free text services. So if you're in the office or at home, no need to load your cellphone. Just use Chikka.