Are you searching where to find the bill or want to inquire the bill of your Globe Broadband, Globe Mobile or your Globe Landline/Telephone Bill online? You can find it in Globe Website. Continue to read the instruction below.
Step 1
Go to Globe's website (
https://accounts.globe.com.ph
). If you don't have an online account in Globe, you must sign-up or register at that website.  
Step 2
After you sign-up or register, log-in to your Globe account and click
View my account details
.
Step 3
Add an account. Click the Add an account button.
 
Step 4
Proceed to fill-out the
Add an account
form:
Complete this process and you will successfully add your Globe mobile number, account number or landline number to Globe's online billing facility.
After that, you can then access and view your Globe bill for that mobile number, account number or landline number.  
How to View your Globe Bill?
Go to the dashboard or to your enrolled accounts and click the account where you want to view the details (e.g. billing, data usage, payment history, promos, etc.)

To download a copy of your Globe bill, just go to Bills & Payments --> Billing History: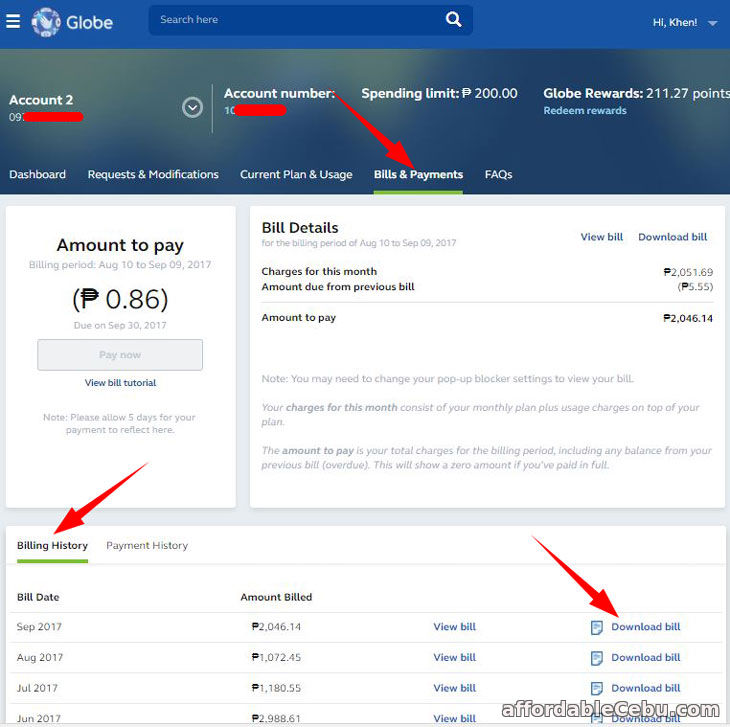 Are you having any problem viewing your Globe bill online?