Tonight at around 8:48pm, when I was surfing the net in my bedroom, I was surprised and terrified when our house was shaking.
I stopped. And felt my environment.
Our curtains were swaying. The ground and wall of our house were shaking.
It's an earthquake again.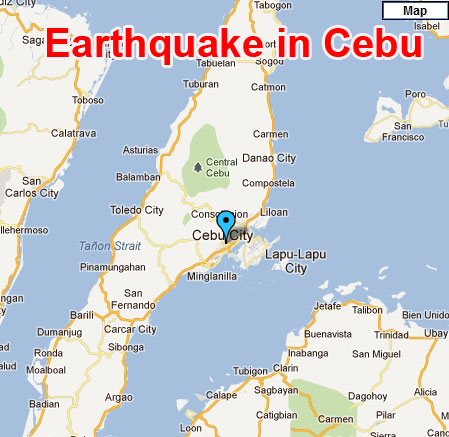 Earthquake in Cebu, Philippines
Then, I moved out from my chair and wake up my wife.
I told her that there's an earthquake!
We planned to move out from the house. The ground was still shaking.
I continued to feel the intensity of the earthquake.
The quake lasted for about 60 seconds.
We are terrified again. As
earthquake shook Cebu
on February 6, 2012 and it brought great damages in Negros Oriental.
We do not know why this earthquake happened again here in Cebu.
That earthquake which happened on February 6 had a 6.7 magnitude.
It destroyed many infrastructures in Negros Oriental and killed many, around 113 people.
May God bless us all. Keep us safe from danger.
We will be updating this post as I'm gathering sources as to what caused this quake and in what places this quake brought great damages.
Update:
The United States Geological Survey's (USGS) reported that the earthquake has a magnitude of 7.9. This is stronger than February 6's earthquake.
http://earthquake.usgs.gov/earthquakes/recenteqsww/Quakes/usc000cc5m.html
This is the epicenter of the earthquake as show in the map below:
http://earthquake.usgs.gov/earthquakes/dyfi/events/us/c000cc5m/us/index.html
Tsunami Alert!
The Pacific Tsunami Warning Center (PTWC) announcement:
http://ptwc.weather.gov/ptwc/text.php?id=pacific.TSUPAC.2012.08.31.1255
GMA News Update
One dead in a landslide in Cagayan de Oro City following the earthquake
PHIVOLCS cancelled the tsunami alert in the Philippines.
Did you feel the quake?