Thursday night (March 3, 2011), a radio report said that the famous 73 years old Filipino actor and movie director
Paquito Diaz
died due to pneumonia complications.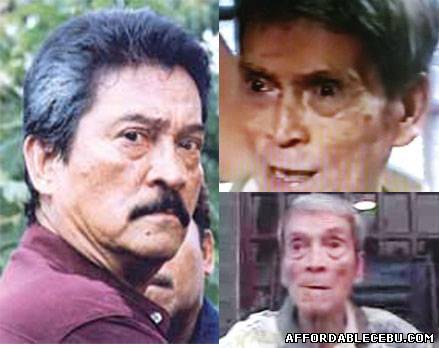 Picture of Francisco Bustillos Diaz, a.k.a "Paquito Diaz"
(May 28, 1937 – March 3, 2011)
Before he died, he was confined in the Estevez Memorial Hospital in Albay. He was just brought home on Wednesday (March 2, 2011). On the previous weeks, he was rumored and news were spreading that he was already dead but it was not true according to his family and relatives.
But on Wednesday (March 3, 2011) at 8:02pm, the famous villain actor Paquito Diaz died in his hometown in Daraga, Albay, Philippines.
His family chose that His body be brought to the Funeraria Nuestra Senora de Salvacion. His children, including Joko Diaz is now going to Albay.
"
Paquito Diaz
" having the real name of
Francisco Bustillos Diaz
, was born on May 28, 1937 in Pampanga.
In his college days, he loved to play basketball. In fact, he is a player of Far Eastern University basketball team before entering showbiz.
Diaz started his career in the show business in the movie "Son of Kung Fu."
He is often playing the villain roles in many films with the late Fernando Poe Jr.
Among the movies he starred were Asedillo (1971), Totoy Bato (1977), Durugin si Totoy Bato (1979), Bandido sa Sapang Bato (1981), Partida (1985), Musim Magnum 357 (1986), Kapag Lumaban Ang Api (1987), Agila ng Maynila (1989), Kapag Puno na Ang Salop Part II (1989), Kahit Konting Pagtingin (1990), May Isang Tuper ng Taxi (1990), Mabuting Kaibigan...Masamang Kaaway (1991), Hindi Pa Tapos Ang Laban (1994), Ikaw Ang Mahal Ko (1996), Ang Pagbabalik ng Probinsiyano (1998), Isusumbong Kita sa Tatay Ko (1999) and many others.
On 2004, Paquito Diaz suffered a lot from hypertension and stroke, which at one time left him comatose. He undergone brain surgery and he had to sell his family house and lot including his car for expenses.