Freedom of Information (FOI) Bill
in the Philippines is a bill that requires the Statement of Assets, Liabilities and Net Worth (SALN) of government officials and members of the Judiciary to be disclosed to the public. This bill is still on the process of legislation.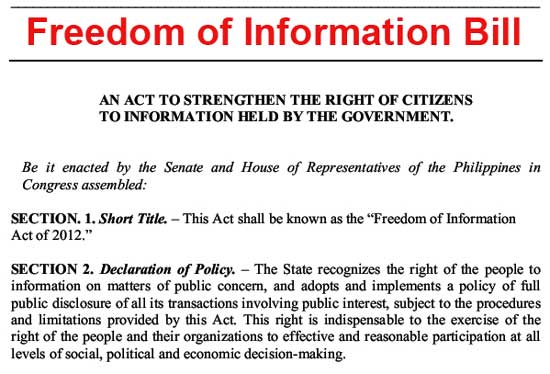 ----------------------------
a photo snapshot of the Freedom of Information (FOI) Bill

Government Officials Required to Disclosed Their SALN
Under this bill, the government officials required to disclosed their SALN annually are:
President
Vice President
members of the Cabinet
members of Congress
members of the Supreme Court
members of constitutional commissions and other constitutional offices
Armed Forces of the Philippines (AFP) officers with general or flag rank

They are also required to post their SALN on their respective agency websites. Thus, it will be easier for the public, the civil society, especially for the media to access their government records.
Importance of FOI
Freedom of Information (FOI) Bill will create a government that is more transparent and clean. It will help in creating government reforms, fighting corruptions and strengthening institutions.
Accessibility of the FOI
Filipino citizens cannot access all information of government officials and agencies. These are information relating to national security or defense, foreign affairs, when accessing its information may weaken the government's negotiating position and may jeopardize its diplomatic relations.
Specifically, the kind of information that are withheld and should be kept secret are those that could:
unduly compromise or interfere with any legitimate military or law enforcement operation;
unduly compromise or interfere with the prevention, detection, or suppression of criminal activity, the effective implementation of immigration controls and border security;

deprive a person of a right to a fair trial or an impartial adjudication;

lead to the disclosure of the identity of a confidential source;

disclose techniques and procedures for law enforcement investigations or prosecutions, or would disclose guidelines for law enforcement investigations or prosecutions if such disclosure could reasonably be expected to risk circumvention of the law;
endanger the life or physical safety of any individual;
---
Are you in favor of this
Freedom of Information (FOI) Bill
? If not, why?