Choosing the best house in the Philippines for you to own and live is not just as simple as you think.
When you plan on owning a home, you have three choices: a single-detached house, a duplex/quadruplex/townhouse or a condominium unit.
It's crucial, especially for a first-time home buyer, to make the right choice for it can spell the difference between having the house of your dreams and having the house that you will hate or worse, wasting your money on a home that will never be finished.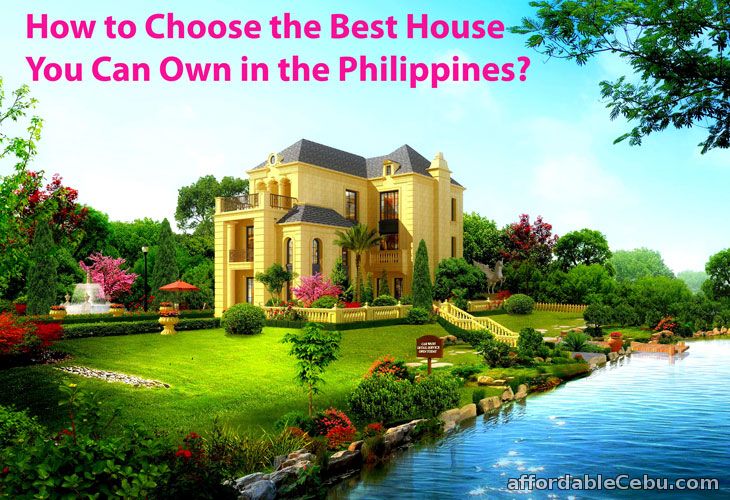 Basic pros and cons of each type of housing
Each type of housing possesses advantages and disadvantages that are uniquely its own.
A single house offers advantages that cannot be offered by a condominium or a townhouse and vice versa. Think of space, privacy and peace and quiet when living in a single house. Its major disadvantage is scarcity and high cost of land make buying or building a single house in urbanized areas prohibitive. For most of us, opting for a single house means moving far into the suburbs or even to the provinces where land is relatively inexpensive.
On the other hand, with a condominium unit, think about the time saved and the convenience of walking or just taking a short commute to work or to school; of taking a short trip in an elevator and taking just several steps to withdraw cash from an ATM machine or grabbing snack in a nearby convenience store in the wee hours. Its disadvantages? Think about sharing common areas and facilities with hundreds of families or individuals; (pardon me, I can't help but think about AH1N1 virus); about paying another half a million pesos for a single car slot and paying monthly dues based on the size of your unit plus the size of your car slot.
For townhouses, it's the middle ground between the two. It shares all the advantages and disadvantages of both a single house and a condominium unit but to a lesser extent. You gain relatively more space and privacy than when living in a condo, but less of them than if you own a single house. Since a townhouse enables a developer to optimize the cost of land to a certain degree, many can still be had in areas not too far from commercial hubs.
There is no perfect type of housing, there's only a right choice.
Base your choice on what you value most
More than a roof over your head, a home should provide benefits that will enhance your lifestyle. When deciding on what type of home to own, first determine the things that you value most – is it time, convenience, space, privacy or peace and quiet? Since all these benefits cannot be practically provided by any one type of housing, making a compromise is inevitable. Give up a few advantages to get the most important ones.
Make a wish list and a reality list
A very valuable book I found, 100 Questions Every First-Time Home Buyer Should Ask by Ilyce R. Glink suggests that you make a wish list and a reality list.
In my opinion, a wish list is no longer necessary if you believe what has been emphasized – that for most of us, there is no perfect type of home that will provide all the benefits that we want; we can't have them all.
Start with a reality list which, according to the book and with a few input of my own, may include the following questions:
How close to work do you need to be?
Do you use public transportation on a daily basis?
Does driving on an expressway or in traffic make you crazy?
How much time are you willing to drive to work each day?
How many children do you have or are planning to have?
How many bedrooms do you need?
Is a garage absolutely necessary?
How often do you go to the city, suburbs or province?
Where would you rather be?
Will your little kids have to walk to school, commute, or will you have to drive them? When they grow up, where will they study?
How far away from your church should you be?
Do you need a garden?
What is your favorite recreation and how far away from it should you be?
With a family of your own, where do your parents, siblings and other relatives live? Where do your friends live? How often do you want to visit or to be visited by them?
These are just a few; the longer your list, the clearer you will be with which home that best suits you.
After you have made a list, rank them according to their importance and use it to evaluate the pros and cons of each type of housing… then choose.
No one type of housing can provide all the benefits you may wish for in a home. Thus, you have to compromise and choose the type of housing that possesses the unique inherent advantages that you value most.
Now that you are sure of the type of home that you want, be certain that these inherent advantages do exist!
After deciding on the what, decide on the where
After you have determined the type of home you want, the next step is to decide where your dream house should be. You have to remember this principle:
"Inherent geographic characteristics, scarcity and cost of land, population density and availability of commercial establishments, varied job opportunities and conveniences determine the suitable type of housing in a given area."
You have to follow it because countless developers in the Philippines either refuse or fail to heed it. Otherwise, you will not get the advantages for which you choose a certain home. Or worse, you might lose a fortune on a project that will never be completed.
If informal settlers or squatters protest when they are given free housing in a relocation site where there's not much job opportunities (what they value most), what reason is there for you to invest a fortune on a housing project that will not enhance your quality of life?
Worst mistake a residential developer commits
The worst mistake any developer can make is to construct a project in an area where it is not suitable. This is regardless of how well-designed or well-built it is.
Between 2004 and 2008, the following numbers of condominiums were started:
almost 2,000 in Bulacan
over 1,700 in Cavite
208 in Pangasinan, 174 in Davao del Sur, 135 in La Union, 130 in Iloilo
in 2004 alone, 125 in the Cordillera Region, 57 in Mimaropa, 39 in Bicol, 36 in Soccsksargen and 23 in Caraga
Compare them with 134 residential condominiums in the entire National Capital Region for the same period.
The number of duplex, quadruplex and townhouses in some of these provinces are also disturbing but not as staggering as their figures for condominiums.
Worst mistake a home buyer commits
I'm not saying that condominiums should not be built in the provinces. I'm sure many of them were completed and delivered to their owners who are now enjoying the convenience of and the time they save by living in a condo. But their staggering number, especially in Bulacan and Cavite, makes me wonder about the following:
How many are within short walking or commuting distance from work, schools, banks, supermarkets, wet markets, hospitals, malls or barber shops?
How many are well-maintained? And most important of all,
How many have been discontinued?!
Since condominiums are sold on a pre-selling basis, how many people bought into these projects and lost their money?
The worst mistake any home buyer can commit is to buy into the mistake of a developer who fails to apply the dictum "form follows function"; not only in the way a residential project is built, but more importantly, where it is built. It is by avoiding this mistake can you be certain that you get the benefits that you value most in your dream house.
Reference: pinoydreamhousetoday.com
Author: Cecilio A. Sanchez, Jr. (Licensed Real Estate Broker)