Gravel stones are often a mixture of different size pieces of stones.
They have a number of applications. That includes building roadways and for making buildings or houses.
In building a house, a gravel is used in the concrete for the plinth beam, tie columns, ring beam and the floor.
A smaller gravel, called "
pea gravel
" is used for grout in grouted masonry walls.
Walls, beams, and columns are all important structural elements, and therefore the gravel that is used to make them must be of good quality or good type.
But what is the best type of gravel stones should be used in making a good quality concrete?
According to
Build Change
, a non-profit construction engineering company who won a 2006 Excellence in Structural Engineering Award, the best type of gravel to use is
crushed gravel
.
crushed gravel stones photo
Qualities of a Good Gravel Stones for Building a House
Crushed and angular (not round)
Clean and free from mud
Not mixed with rubbish, wood bits, or roots
Not larger than 2cm (3/4 inches) in diameter for reinforced concrete beams and columns
Not larger than 1cm (3/8 inches) in diameter for grout.
Large pieces of gravel will cause problems when pouring.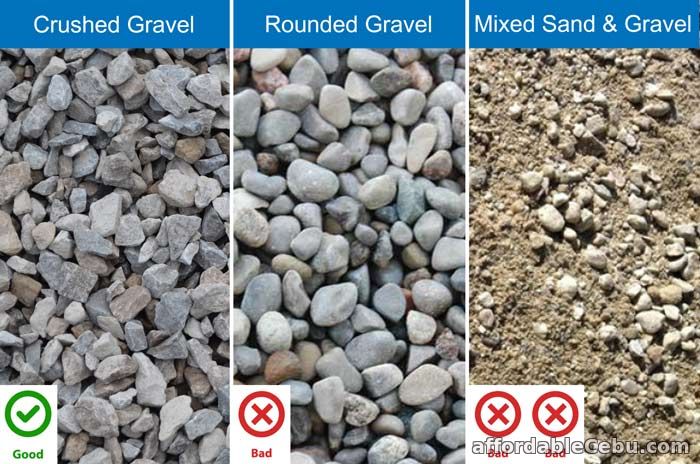 comparison of crushed gravel, rounded gravel and mixed sand and gravel
Crushed gravel is angular, which allows the pieces to lock together and make stronger concrete.
If you use rounded gravel, try to use more sharp and angular broken pieces.
You should use a clean crushed gravel. To check if your crushed gravel is clean and does not contain mud, put some crushed gravel in a plastic cup and add water.
Let it settle for 4 hours.
If the water is clear, the crushed gravel is good and clean. If the water is cloudy, the crushed gravel is not so good.
It won't bond well with the cement, and mortar. Concrete will not be strong. -
https://www.affordablecebu.com/