---
How long will Metrobank ATM Card expire?
Some people would ask especially those who are new Metrobank accountholders, "how long will Metrobank ATM card expire?". They want to know until when is the atm card usable.


A Metrobank ATM card will expire in ten (10) years. Just like my new Metrobank ATM card in which you can see the expiration date printed at the front of the ATM card: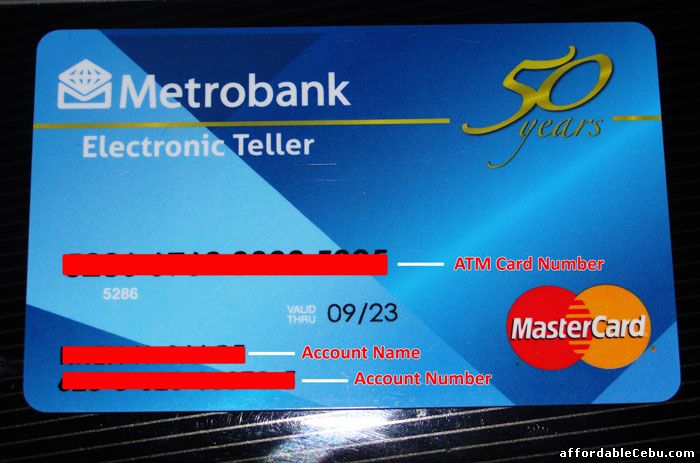 This Metrobank ATM card is valid up to 09/23 or September 2023. So the expiration is on September 2023. I applied for this atm card on the month of September 2013.

2023 minus 2013 equals 10. So 10 years is the expiration of Metrobank ATM card.





If your ATM card has been expired, you should request a renewal of your ATM card to any Metrobank branch.
Warning! When posting comments, strictly observe correct spelling. Avoid incomplete words such as TY (as Thank You), Pls as Please, gud as good, dpt as dapat, etc. You can comment in English or Tagalog. If you will not follow this simple instruction, your comment(s) will not be accepted or published.
Total comments: 3
3
Jessiebel Rodriguez Acasio
(30 August 2017 7:58 PM)
Greetings!
I am Jessiebel. I forget my pin of my ATM card. So my problem is, how can I withdraw using this ATM Card? I am currently working in Abroad so kindly give me an advice. Thank you.
2
KARL Gaid
(02 August 2017 10:09 PM)
Good evening to you
I'm Karl Iver Gaid,owner of the metrobank prepaid card
When I apply the card April 2016 that time until now I did not used the card but it has a maintaining balance worth 2,000

The question goes like this
Is my card are still valid?
And will the maintaining balance was still remain in my card?