---
How many digits does Metrobank Account Number have?
This is a question and answer portion. After the question is an answer provided. You can also ask any questions. We will be happy to answer your queries.

Dear affordableCebu,

How many digits does Metrobank account number have (example: Metrobank ATM Card Savings). My ATM card has my name on the lower left with 13-digits below the name and a 16-digits in the middle of the ATM card.

Ung atm card ko has my name on the lower left corner with 13-digits below the name and a 16-digits in the middle of the atm card.

- asked by anonymous




Answer



The Metrobank ATM account number has 13-digits. These are the digits you can find below the account name of the ATM card.

Other types of Metrobank accounts (such as Passbook or Checking accounts) have also 13-digits account number.

In a Metrobank E-teller ATM Card, you can find the account number below the account name printed at the front of the ATM card.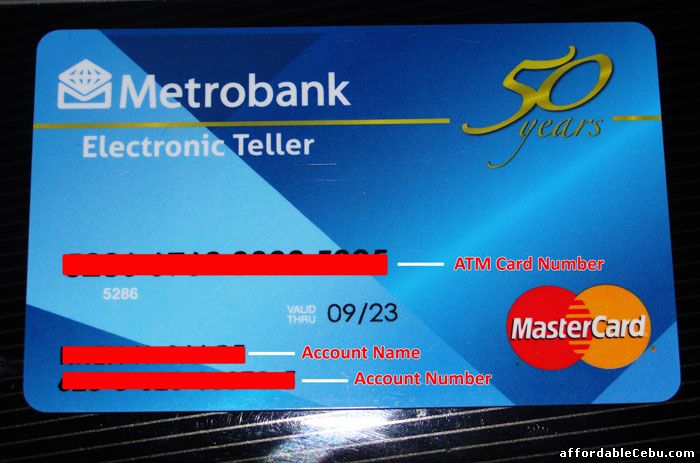 Metrobank ATM Card (photo)

While the ATM card number has 16-digits. These digits are printed at the middle part of the ATM card.



Problem with Registering to Metrobank's Online Banking Facility (MetrobankDirect)



If your ATM Card number contains 16 digits only and you are required to enter 19 digits, you must add 3 zeros (000) at the beginning of your ATM Card number. Example: 000 + 1234 5678 9012 3456
Warning! When posting comments, strictly observe correct spelling. Avoid incomplete words such as TY (as Thank You), Pls as Please, gud as good, dpt as dapat, etc. You can comment in English or Tagalog. If you will not follow this simple instruction, your comment(s) will not be accepted or published.
Total comments: 10
9
ERIC GAMILLA
(20 August 2016 6:27 AM)
I tried to register in online banking at metro bank,, but the data asked me for the 19 digit atm card number but infact it has only 16 digits, like this format **** **** **** ****, what will I do to have this 19 digits that the metrobank says
8
Irene Zaldivar
(17 May 2016 2:48 PM)
Please activate my account number. I tried to checked in the ATM Machine but it says No Financial Institutional found. please help. thanks
7
chili
(11 May 2016 12:33 PM)
hi metro bank
i tried to register in online banking but it's suddenly ask me the customer's 12 digit number. where can i find it? gamit ko po na bigay ng company is metro bank mastercard. it doesn't show the account number. only the card number. please help me.thanks a lot
5
carla salvador
(01 March 2016 10:17 AM)
do we need to copy the hyphen in filling up for the account number?
4
Eduardo Manabat jr
(02 August 2015 1:38 AM)
Hi, the teller only gave me a 10 digit number will it be usable for them to send me money?
3
richy y. ballentos
(10 April 2015 8:51 PM)
good day i would just like to ask if this account no 1183118216793 under the name of Zita P. Meninguito is owned by her?? i would just like to verify because i am going to make an online transaction under this name by ordering a product from her i would just like to confirm if this is existing account under that name.

thank you very much.
2
Cres
(08 April 2014 8:20 PM)
What I sent to my sender is my card number instead of account number. He finished the transaction but yes, the money didn't successfully transferred to my account.

But he's account has been deducted with an amount. What should he do to get back his money.

Is it possible to transfer it successfully to my account number through my bank?
1
Arlene Torres
(29 January 2014 6:17 PM)
when i type my card number into a form to pay online..why it says invalid?