---
How to Get BDO Statement of Account Online?
A question coming from Elmer,
"I would like to seek assistance on how to get the statement of account. I'm currently working outside the Philippines."
Aside from requesting your BDO statement of account in a BDO branch, you can also get one online or thru
BDO online banking
facility....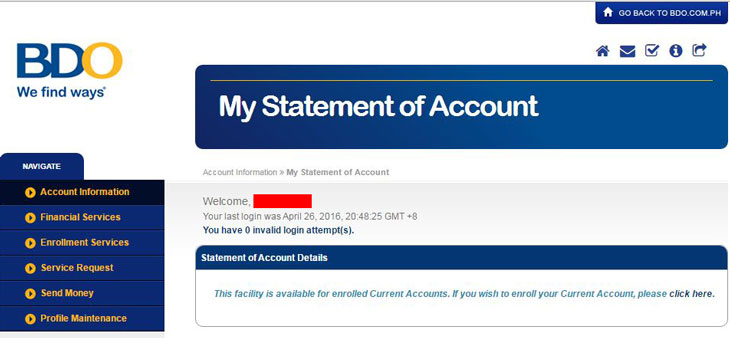 To apply for BDO online banking this article might help you:

After you successfully enrolled to BDO's online banking facility, log-in to your account and go to Account Information --> My Statement of Account or My Transactions.




Thru BDO online banking, you can also access a lot of very useful features such as Fund Transfer, Bills Payment, Mobile Phone Reload, BDO Cash Card Reload, Wallet Reload, Checkbook reorder, Send Money to Another Local Bank, Send Money for Pick-up at BDO branch, Send Money Door to Door, etc...




A lot of things you can do with BDO online banking. Accessing your BDO account online is free (no hidden charges).




Do you have any other concern regarding your BDO statement of account?
Warning! When posting comments, strictly observe correct spelling. Avoid incomplete words such as TY (as Thank You), Pls as Please, gud as good, dpt as dapat, etc. You can comment in English or Tagalog. If you will not follow this simple instruction, your comment(s) will not be accepted or published.
Total comments: 1

0

Spam
Good Day!

My BDO ATM card was issued as a payroll debit card when I worked in Manila. I am now residing in La Trinidad Benguet. I am expecting a deposit to be put on my card so I needed to provide a bank statement containing my name, address, the bank's logo and the date the statement of account is given. I was advised by the teller to go to the branch who issued my card since they cannot access it in Baguio and Benguet. I would just like to know if the statement can be sent to me via email since Manila is too far away from Benguet.  

If sending it by email is not possible, I would like to know if I can go to any BDO branch in Manila to obtain the document or do I need to really go to the specific branch who issued my card. I would also like to have an information about which branch issued it if I needed to really go there. 

This is very important to me so I am hoping for your response as soon as possible.