.jpg to .png, .chk to .jpg, .jpg to .avi, .divx to .avi, etc. These are some of the file extensions you want to change for your files. Especially if you have plenty of files to rename or change their extension. It's a waste of time to change the extension of 200 files one by one. You can save time by following this one simple method.
(Note: This is applicable to Windows OS only)






Change File Extensions of Multiple Files Thru Command Line




To rename or change file extension of multiple files, you must put those files in one folder. Point the folder with the mouse, press shift and right-click on that folder, and choose Open command window here.



The Command Window will open (like you can see in the screenshot below). Type the following command line:
ren *.(current file extension name) *.(file extension you want)




Take note: Don't forget to provide space between ren and *.jpg. Then, space between *.jpg and *.png





For example if you want to change .jpg into .png, just type
ren *.jpg *.png
, and click Enter. See the screenshot below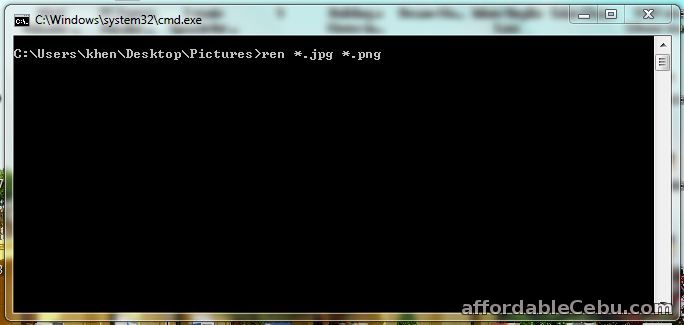 The extensions of all the files inside the folder will change into the desired extension you want. It's that simple.
Some examples of file extension you can change using this method:
.jpg to .png
.png to .jpg
.jpg to .gif
.gif to .jpg
.chk to .avi
.chk to .jpg
.chk to gif
.chk to .tif
.chk to .dll
.chk to .png
.chk to .bmp
.chk to .mp4
.chk to .wmv
.chk to .mkv
.chk to .mpg
.chk to .3gp
.chk to .flv
.chk to .swf
.chk to .mov
.chk to .m4v
.chk to .qt
.chk to .rm
.chk to .ts
.chk to .mp3
.chk to .aac
.chk to .ogg
.chk to .wma
.chk to .wav
.chk to .flac
.chk to .m4a
.chk to .amr
.chk to .bmp
.chk to .jpg
.chk to .gif
etc...