---
How to Read Your Sun Cellular Bill
Know more about your Sun Cellular bills online. Here's a short orientation of some details of your Sun Cellular Bill (Postpaid, Mobile, Internet Bill, Plans, and other Sun cellular bills).



HEADER PAGE


(Sun Cellular Monthly Statement of Account)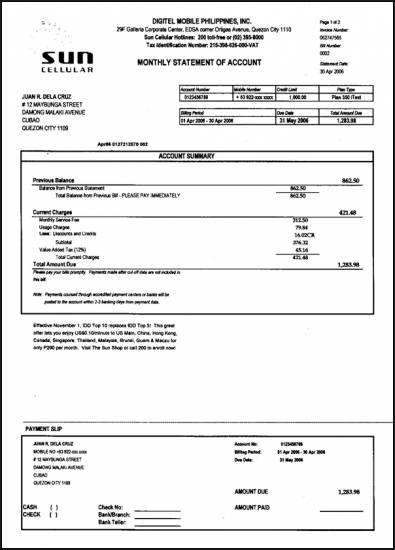 SUCCEEDING PAGE/S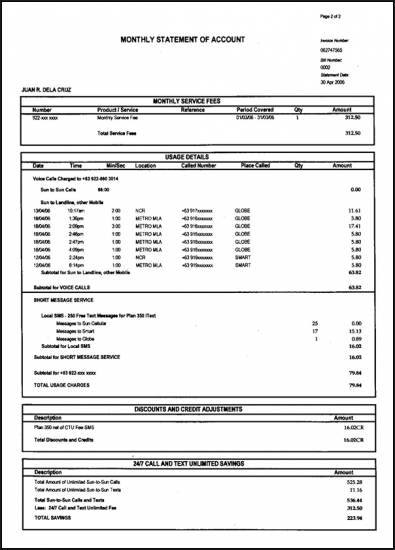 TERMS AND DEFINITIONS:
PAYMENT AND DUE DATE
Last day for bill payment
BILLING PERIOD
Period covered in the monthly bill
CREDIT LIMIT
Maximum amount of outstanding balances to be incurred before service is recommended for redirection. It is inclusive of the MSF, Usage Charges, Adjustments, and All other fees, billed or un-billed as well as the overdue amount.
BALANCE FROM PREVIOUS STATEMENT
Total amount due from the last statement
PAYMENT RECEIVED
TOTAL AMOUNT DUE
Amount to be paid on or before the due date
MONTHLY SERVICE FEES
Total monthly consumable recurring charge for the current bill period (may be a pro-rated amount during the first billing and may be inclusive of the CTU/TU Fee)
ONE-TIME CHARGES AND DEBIT ADJUSTMENTS
Total non-recurring charges such as Advance MSF, Handset Cost, Registration Fees, etc.
USAGE DETAILS
Total amount of voice calls, operator-assisted calls, text messages, and value-added services made by the account
DISCOUNTS
Total amount of voice consumable and free local SMS
TAXES
Total amount of applicable VAT, OCT, and SUN Roamer Tax on current charges
Warning! When posting comments, strictly observe correct spelling. Avoid incomplete words such as TY (as Thank You), Pls as Please, gud as good, dpt as dapat, etc. You can comment in English or Tagalog. If you will not follow this simple instruction, your comment(s) will not be accepted or published.